Resolve your Burst Traffic with Crest Infotech In this trending digital world, each and every businessman or owner wishes to grow its business at international level. They are expecting large number visitors on their websites and I don't think so that is the wrong wish. But the thing is when any businessman or owner expecting this kind of high traffic on its particular website parallel. They have to centralize on few basic things which are directly or indirectly impact on their business. Here I am trying to say that This kind of "Busty traffic" websites includes many challenges. Like Performance of website and Security includes which all are prime challenges for website developers.
Essentially performance conducts as flawlessly and logically. In order to attract and maintain customers satisfaction or it indirectly includes understanding expectations of customers. In this 5G world, Everyone on the Internet is in a hurry, whether they are browsing on the computer or mobile devices. A customer expecting blazing computing speed and consistent services. Delays of a few seconds can cost-reduce numbers of visitors and undermine the reputation of your business.
According to scientific survey 57%, people skip loaded that page due to low speed. Just imagine if any customer away before they make purchases. due to slow load speed, you may survive with millions of financial loss. For e-commerce websites, losses are reflected in decrease revenue and impact trust factor between consumers and brands. Which is an unacceptable phase for any businessman.
So the first thing becomes a central point of our discussion is how can you manage the performance of websites? furthermore furthermore
INFRASTRUCTURE
The underlying infrastructure equally important for any website to maintain performance optimization. It must be able to support the"Burst Traffic". we can say that it is the backbone of any websites. For that you should avoid shared hosting plan means lack of bandwidth. Which might be harmful due to the traffic load of other sites on the server also impacts on site performance.
Thus to solve out this issue we prefer a Virtual Private Network(VPS) or a dedicated server hosting plan is more suitable for any website to manage high traffic. Implementation of it might be sometimes time-consuming but it will never affect the reliability of your website.
STREAMLINE SITE DESIGNING
To display properly, every element on a page requires an HTTP request between a visitors' browser and hosting server. Therefore, pages with plenty of scripts or media are more likely to be slow to load. To avoid this problem you should concentrate on few minor aspects. which are indirect impacts on the performance of the website like unnecessary redirection of 301, or 404, or any other. Image Optimizer when we upload the media over the site.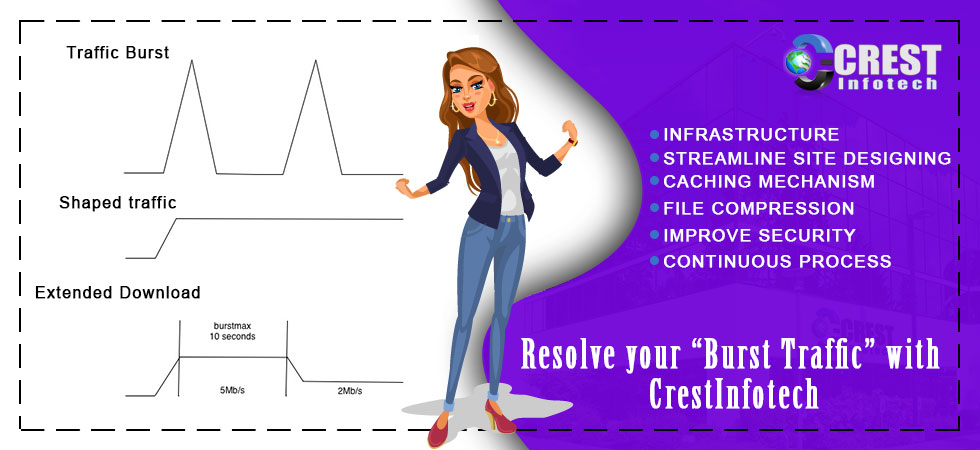 CACHING MECHANISM
If any visitors frequently come to the site at that time browser store components of the pages, including content and scripting. furthermore, Mostly this content remains is static or it might be uniform across the site and does not need to requested repeatedly in order to display.
FILE COMPRESSION
Many high traffic websites use enable Gzip Compression or any other methods like CSSNano, CSS Compressor or any other to reduce file size during delivery and retrieval time. furthermore, the user's browser then unzips the file and display the page. Using this method file size is reduces near about 70 percent which reflects significantly increase in load speed.
IMPROVE SECURITY
Reliability includes system need to remain resilient against component failures, including hardware, software, and network crashes. Distributed Denial of Services(DDoS) are particularly vicious and take advantage of the effect of"burst traffic" and put your website at the deputed level without warning. These attacks slam your site with requests from multiple IP addresses with intent to overloading it.
So as prevention of security alerts may include routine backups, choosing secure and right extensions, plugins, secure payment methods as well update it frequently as well most important Security Software.
Many times investors feel free after managing all the steps as I described above but the question: is it sufficient?what you think?
CONTINUOUS PROCESS
Optimizing high traffic websites isn't a one-time task. It's an ongoing process requiring testing and tweaking to monitor traffic and preserve consistent site performance. Traffic levels change over time, especially if you continue to add content and draw more visitors. Your site has to handle these changes. The only way to manage is to be vigilant in monitoring analytics and site speed.
CONCLUSION
In summary, web applications and their supporting infrastructure need to be robust and efficient as more of society shifts its everyday interactions online. Fundamental advances in technology, many driven by the open source community, are making it possible for today's Web application developers to stay ahead of the scalable computing needs of consumers.