Still, Don't have online Store for your business Or Thinking about Online Store then your searching is over here with Crest Infotech.
Magento2 or Shopify? When search about E-Commerce Web Development and research on Internet, there are most popular Two platforms Shopify or Magento. Now Question is which one is perfect for our online E-Commerce Store? So, My Today's Article is helping in deciding which one is better for E-Commerce.
WHAT IS MAGENTO2?
Magento2 web development code is easily available and can be modified because it uses PHP for coding and is an open source eCommerce solution.
Magento2 is commonly used platform for E-Commerce website Development and it is used 16%of the top million sites.
With Magento2, every aspect of the store is under the control of the founder. Admin will be able to manage and create several stores within the same admin panel.
Magento2 has more than 5000 add-on extensions, It helps for enhancements in your store. So, It is a wonderful tool for the Business Owners.
Magento 2 comes with a user-friendly Admin panel for new users, it is simple and easy to learn an incredibly quick and user-friendly checkout page.
Magento 2 gives multi-vendor marketplace capabilities.
WHAT IS SHOPIFY?
Shopify Development uses a coding language called Liquid and is a proprietary eCommerce solution.
Shopify is a good solution for simple stores not for complex stores.
Compared to Magento, Shopify is not that popular claiming 7% of the top million sites.
Shopify has 100 add-ons and apps and still, it is a new platform, it is evolving into new and improved add-ons and apps.
Shopify does not allow to make a lot of changes because of a proprietary platform. Only we can do change is the colors and fonts.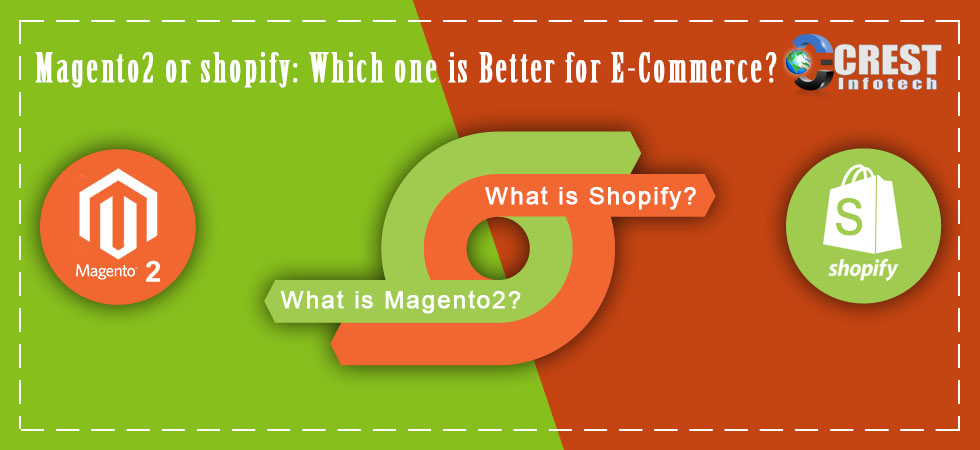 COMPARISON: MAGENTO2 OR SHOPIFY
Easy to use: Magento or Shopify both have powerful admin configuration with user-friendly interface But Shopify has the advantage when providing a wizard mode that allows even novice users to set up their stores very easily while Magento is lacking this feature.
which means users have to pay a monthly fee to access the Shopify software. It also provides its potential customers with 15 days free trial which is quite helpful. if you need to investigate the platform before the real start.
Shopify Package Price: Basic $29/month | Pro $79/month | Unlimited $179/month
Shopify charges transaction fees for payments gateways like PayPal, Braintree, and Authorize.net. In this Case, Magento 2 provides users with a totally free Community Edition and demands a cost that is counted on the specific e-commerce store needs and size. Magento is self-hosted so Merchants will also purchase a hosting solution for Magento at a price of $1-$200 per month.
Multi-Languages capabilities: Magento 2 has the convenience here when supporting users with inbuilt languages. Owners will have to use third-party apps for creating fully multi-lingual stores.
CONCLUSION
As per me, Magento2 or Shopify? It all depends on store size for best platform choice. Don't think for small and simple store development, go for Shopify and for large-scale store development go for Magento 2 development.