Hire React Native Developer from Crest Infotech. Our professionals with technical expertise will help you brings your app to the market Sooner on various platforms. Crest Infotech has a Dedicated and Experienced cross-platform app development team working on React Native. With React Native Development services, we can develop mobile apps in very little time.
HIRE REACT NATIVE DEVELOPER
In the world of Mobile App Development, we always look for better app performance, shorter development cycles, and quicker development time. Crest Infotech provides all kinds of React Native app development services. Our React Native Developers deliver fast, clean, and easily portable React Native Mobile Apps.
React Native is a technology developed by Facebook. Thousands of apps are using React Native. Like Facebook, Instagram, Airbnb, Wal-Mart, and many more. React Native is the most compelling technology tool used worldwide.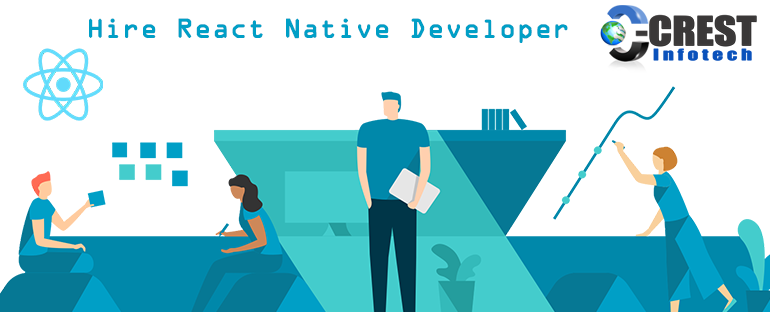 Advantages of Hiring a Professional Designer
At Crest Infotech, Hire React Native Developer. They have excellent knowledge and have vast experience in the field. With Crest Infotech, you can build cross-platform applications for iOS and Android; and save valuable time and money. We have a React Native app development team that uses the latest Technology to develop Android and ios apps.
At Crest Infotech, our React native App Developer offer premium quality React Native solutions as per your project needs and requirements. We have a diverse team of React Native Developers to handle the complete development of the React Native app. It Strongly Recommended To Use React Native For Next App Development Project.
REACT NATIVE DEVELOPMENT SERVICES
Hire React Native Developer on an Hourly/Weekly/Monthly basis. We assure you of Quality, on-time Development, work transparency, and performance. At Crest Infotech, you can easily ask the developer to work according to your idea and requirements.
Contact Us, We are here to discuss your mobile app project.
Think Website Call Crest Infotech! Looking for a Quick Quote regarding your project?