For Every Grocery Shopping Clone App Model
If you are also looking to hire best mobile app developers to create native Android and iOS Grocery Shopping Clone App, we have an experienced mobile app developers team to customize and develop Grocery Shopping Clone App.
Our team follows agile mobile application development process to build top Grocery Shopping Clone App, allowing users best user experience to shop Grocery with just a few simple taps on the screen.
With our customizable grocery app creation solution, we support all of the common online grocery delivery models.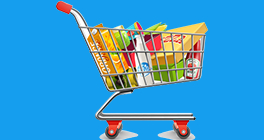 Build a Mobile Grocery Shopping App
We encourage start-ups and aggregators to launch a feature-rich grocery app, such as Instacart or Grofers.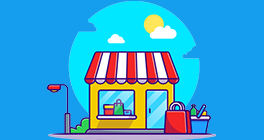 Launch an Online Supermarket App
Offer a one-stop grocery shopping app across all your stores and manage everything from a central dashboard.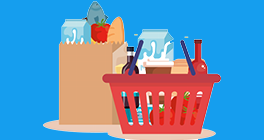 White label Grocery Store App for Business
Set up a direct link between your Kirana shop and loyal grocery shoppers and grow your business.
Grocery Shopping Clone App Solution
A feature-rich and fully customizable on-demand grocery app development solution. We at Crest Infotech use latest technology for backend development and mobile app development. Laravel Development or NodeJS Development is best choice for Admin Panel while React Native Development is best choice for Mobile App Development.
Native Apps
Shoppers get intuitive Android and iOS apps for online grocery shopping.
Easy Onboard
Getting started is fast and simple with e-mail and social login options.
Browse Products
With intuitive search, filters, and sorting, shoppers can find items easily.
Quick Searching
Allow the existing customers to spread a word about the services or products and get some benefits in return.
Multiple Payment Options
With support for all popular options, customers can pay as they wish.
Order Tracking
Effective time tracking and alerts to know the exact order status.
Schedule Delivery
Customers can opt to receive their orders on convenient delivery time.
Re-Order
Shoppers can easily repeat their order history by saving time.
Push Notifications
Provide alerts for the deal, drops in prices, order alerts, and other important updates.
Offer Zone
A dedicated section to find all the latest deals and discounts for the shoppers.
Manage Settings
Simple handling of profiles, addresses, payment details, notification settings, etc.
Feedback & Ratings
Get valuable feedback from your customers about their shopping experience.
Dashboard
One-stop admin on the web to handle all aspects of your grocery business.
Manage Stores
Run and manage several stores and operate them individually in one location.
Assign Managers
To simplify and streamline store management, add the managers to your stores.
Manage Listings
Creating product listings, adding details on prices, quantities and other inventories.
Assign Orders
Assign new orders to your stores manually, or let them be automatically handled.
Track Orders
Keep an eye on all orders placed and the details of their fulfillment.
Manage Customers
See all registered customers on the platform and manage them.
Manage Payments
Add your payment details and started getting paid for online grocery sales.
Manage Offers
Create and manage new offers, sales and discounts, and their availability.
Manage Feedback
Review customer reviews for grocery delivery, and make adjustments accordingly.
Manage Notifications
Manage push, email and SMS alert settings for customers and store managers.
Reporting & Analytics
Leverage data and insights to make the grocery app business quicker and smarter.
Browse Stores
Enable shoppers to browse and buy items from a specific store.
Store Locator
Make your stores conveniently available on a map for quick navigation.
Store Pickup
Provide an option to order products online and pick up items from a nearby store.
Website Ordering
Provide the opportunity for your customers to make purchases via a web app.
Logistics Integration
Power the door-to-door distribution operations with third-party integration.
Customer Support
Add customer support integration to easily resolve user queries.
Inventory Management
Integrate with inventory management software to increase efficiency.
Change Location
Allow users to swipe from another location, as when traveling.
Dedicated Interface
Store managers are provided with a web interface for easy order management.
Order Notifications
Managers will receive real-time web notifications on all new orders received.
Dispatch Order
Managers can send orders from their store for delivery.
Order Status & Tracking
Track all store orders - new, in progress, and completed ones.
Manage Inventory
Store managers can view and manage their store inventories and prices.
Interested In Launching Your
On-Demand Grocery Shopping Clone App?
Significant numbers of people are comfortable buying groceries online and being delivered at their doors. There's a huge opportunity to grow and scale your grocery business with a mobile app and we want to help you make that success.
Talk to us
Key Benefits of Our Grocery App Development Solution
We will be your perfect technology partner in creating a robust online shopping platform for groceries.
White Label & Customizable
Get a fully branded and customized grocery app solution that includes custom features, integrations, and advancements.
With our base solution, your business can get started with selling groceries online fast and cost-effectively.
We create custom applications for grocery stores or single or multi-seller grocery stores.
Integrate the grocery company with third party logistics, inventory management systems and more.
Start your Grofers or Instacart like app with multi-lingual and currency support in multiple regions.
Built-in support for popular payment gateways such as PayPal with the flexibility to add your preferred ones.
Our grocery app development system has been built to scale easily as your online grocery company grows.
Our solution provides your customers with intuitive app experience and simplifies your business management.
From discovery through to post-launch support, we work closely with our clients to ensure maximum ROI.
How we Implement And Launch
Your Future Grocery Shopping App?
Technology Stack Behind
Grocery Shopping App
Frequently Asked Questions
Will Grocery Delivery App Management Solution Work for my business?
Our Grocery delivery management software solution can enable any business globally to dispatch and track deliveries, communicate with their delivery fleet and customers and efficiently scale their delivery operations.Schedule a free solution demo with our experts.
Do you offer route optimization feature?
Yes, we provide route optimization feature to make deliveries more efficient. Contact us to schedule a demo.
Is it a whitelabel solution?
Yes. The delivery management panel, driver delivery apps and customer order tracking app can all be customized as per your business requirements.
How much does Grocery Delivery App Costs?
We offer a very competitive price for the delivery dispatch software and delivery driver app solution.You can send us a quick inquiry to get a free cost estimate from our on-demand delivery management solution experts.
How soon can I deploy the solution?
The delivery management software can be deployed for your business in a few days time. The time may increase based on the driver and customer app customizations requirements and any additional features or integrations who want to include.Send us a quick inquiry to know more.
Will my drivers need their own phones?
Drivers can use their own iOS or Android devices or use the ones provided by your business. They just need to download your driver fleet app from the app store and log in with the credentials provided to them by you.