Crest Infotech has extensive expertise in custom Mobile Application Development and vast experience in developing Mobile Applications, which includes iPhone Application Development, windows application development, and Android Application Development.
MOBILE APPLICATION DEVELOPMENT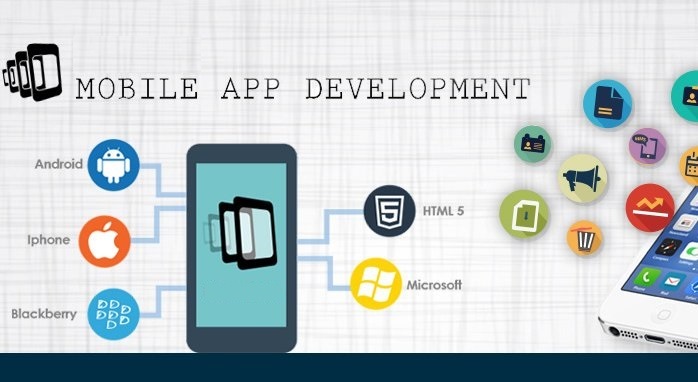 STARTING FROM CMS TO ECOMMERCE MOBILE APPLICATIONS
Currently, stigmatization and on-line selling are growing in no time. Corporate corporations prefer mobile applications of their company to hold out daily deals of business doubtless as room booking applications for resorts or E-commerce business applications for on-line searching. Applications like CMS is an eminent example of Application Technology to grow your business. It helps your selling and client service department keep up a constant relationship with customers and keep them updated regarding your offers & alternative services.
Each company or little business organizations are exploiting Mobile Application Development of their own company for stigmatization. They use applications like mail-applications to send quite one mail at a time with nominal customization options as per the company's necessities. Some application specially designed to speak with internal workers of an explicit company to stay them updated so on, branding mobile applications often used for selling purpose that results in the growth of your business.
World we tend to board
The world we tend to board these days is quick and logistical. People use networking applications and different facilities to live, communicate greater, and be out of the group. I.T sector is leading this world to whole new quick and higher generation supported internet and technology terms, such as applications and code used for the betterment of labor output and cut back efforts betting on necessities. Mobile Application Development is one in all the supply of quick and higher output. Applications design to support many various platforms like iPhone, iPad, android, blackberry, and plenty of a lot.
Every mobile platform
Every mobile platform has its specific options and limitation alongside edges. Here at Crest Infotech, our skilled workers work on multiple platforms well to create a mobile application and its development. We offer quality work service as clients would like our programmers are versatile with a platform for Mobile Application Development whether or not it's for iPhone, iPad, or android. Crest Infotech is one of the simplest leading companies providing mobile application development on variable platforms at reasonable, effective, and low prices.
Branding is something
Branding is something a company organization or institute tag or self-addressed as a unique category; that's what we tend to call stigmatization. It is connected directly and thoroughly to the name of the company organization or institute. Stigmatization is extremely half essential once it involves the growth of company business. After all, the whole is the tag of the corporate organization or institutes passionate about its sort and with what the company deals.
WHY CREST INFOTECH FOR MOBILE APPLICATION DEVELOPMENT
Our trained programmers are versatile to figure on any platform to create stigmatization applications for the growth of your business with customization options as per your necessities. We tend to deliver quality add given time-frame box. Crest Infotech is documented in the market since last for providing the best stigmatization mobile application development services for the expansion of business at a reasonable and low price.
Crest Infotech team has sound experience and expertise in developing highly interactive Mobile Application Development using the latest operating systems that are extremely user-friendly and functional. With Crest Infotech, you got the hire mobile app developers services, mobile app development company services. We focus on delivering the Best, Cost-effective solutions, Value-added services & On-time delivery to meet a wide range of requirements to help clients realize a greater return on investment for their technology initiatives.
MOBILE APPLICATION DEVELOPMENT
With React Native at Crest Infotech, we build reliable and cross-platform Mobile Applications for iOS and Android...
At Crest Infotech, we have an in-house team of talented and experienced app developers who have established proficiency in...
iPhone built an identity as the fastest growing mobile platform in the market today. This is the right time to get involved in the iPhone...
At Crest Infotech, we offer specialized services for Ionic App Development as our services also combine with AngularJS, CSS...
Xamarin app development is one of the best platforms for developing cross-platform apps. Using the same codebase With Xamarin...
At Crest Infotech, we have an in-house team of talented and experienced app developers who have established proficiency in...
ANDROID APPLICATION DEVELOPMENT
Crest Infotech can provide cost-effective Android App Development services due to our strategic offshore location and...
Crest Infotech builds Windows apps that are vibrant, pioneering, and improve user output. Our specialists assist in designing...
Crest Infotech has become one of the leading companies offering PhoneGap app development solutions thanks to the quality of our...
Think Website Call Crest Infotech! Looking for a Quick Quote regarding your project?