Crest Infotech offers a full range of Magento Development Services, including eCommerce web store design, custom Magento store development. Furthermore, we at Crest Infotech provide Magento extensions development, Magento development, shopping cart development, payment gateway integration, multiple shipping policies, and more.
Moreover, we provide a whole Magento development solution with affordable packages based on your needs and requirements. Furthermore, Magento development services offer a responsive web store template that is compatible with all the devices and browsers.
Magento is a new professional open-source eCommerce platform that offers flexibility and control, which has never been seen before with any single eCommerce platform. Besides, Magento has a feature-rich eCommerce web solution with a combination of open-source technology and industry-leading rich-features to make a powerful eCommerce Store Platform.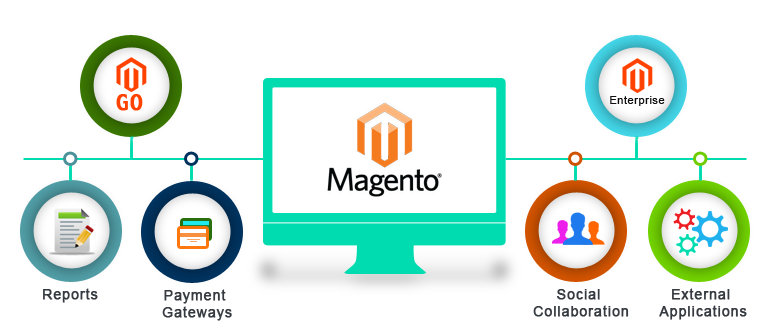 Furthermore, our best speed optimization web solution and services avoid full web page caching. Also, it is customized according to your online store's needs, nature, requirements, and is compatible with the advanced store functionalities of your online web store.
Therefore, it improves your business client conversion rates, avoids shopping cart problems, better user experience exponentially through faster web page loading speeds. Consequently, boost the business performance of your Magento eCommerce online store by optimizing its loading speed as well as optimized overall Web Store Design.
The Magento Development
The Magento Development stands out as one of the leading and most popular choices for an online eCommerce platform for businesses around the world, with approximately 30% market share. However, its features provide better functionality and ease of use to users and store managers. Moreover, Magento eCommerce is the best solution for an online business for small as well as large size business.
Furthermore, Magento supports
Furthermore, Magento supports a responsive store design layout, which makes sure that your web store is running on multiple devices as well as browsers. In addition to that, the eCommerce platform can boost your business sales through increased store visitors, good conversion rates, cost-effective business solutions, and multi-store solution, and multilingual support.
Magento was designed
Magento has designed with the idea that the two businesses are not the same, so eCommerce platform implementation has to be a unique solution. Therefore, Magento Development can customize as per your business requirements and needs. However, Magento Development Services have lots of other features like robust architecture, SEO friendly design, and CMS application support. Also, more advanced functionality for developers as well as user settings can easily add through Magento extensions and customization. As a result, your Magento eCommerce store starts generating higher returns.
FEATURE WITH MAGENTO DEVELOPMENT INDIA SERVICES
Search Engine Optimization is a much important feature to gain high rankings as well as improve visibility in search engines like Google, Yahoo, Bing, etc. Therefore, Magento provides functionality for auto-generated search engine sitemap, updating meta for your category and products pages, and much more. As a result, it brings web traffic to your online store and chances of getting more leads, more clients, more sales, and more profit.
At Crest Infotech, our certified Magento developers' team will create your Magento store with the best user experience you ever had. Moreover, our Magento customization experts have an in-depth understanding of this open-source technology. Therefore, they will customize Magento Store and make an online eCommerce store with all your unique business requirements and needs.
SUCCESSFUL ONLINE BUSINESS STORE
We offer you everything that you need to have a successful online business store. An eCommerce web store is a valuable sell as well as a marketing tool for any online eCommerce business. Therefore, we are eager to help you to get it in the right business direction. Starting from attracting visitors, ignite your branding, engage more customers, and unlock your profit with Magento Development Services.
Consequently, we are the obvious choice for eCommerce business web store design from around the globe. Moreover, we are well known for partnering with our clients to build up a successful eCommerce web store that they love! Also, we will connect the social media platform with the online eCommerce store for your better experience.
We offer a complete eCommerce Magento Development solution at a competitive price. If you have any questions or queries regarding our eCommerce services, Packages, or Development Process, don't hesitate. Please Contact Us or Make Call us on 96870 42303.
WHY CHOOSE CREST INFOTECH FOR MAGENTO DEVELOPMENT SERVICES?
Crest Infotech is an end-to-end Magento Development company that provides Magento development services to clients, including Magento theme development, Magento extension design, and development. Furthermore, our certified Magento Developers have successfully customized premium themes, extensions, and create the extensions for our clients to resell. In conclusion, we have years of experience working with Magento GO as well as Magento Enterprise.
Think Website Call Crest Infotech! Looking for a Quick Quote regarding your project?