Ever thought why the G and g in Google are blue and o and e, red? Or why does Facebook have a white 'f' embedded in a blue square for its logo? that's where the Importance of UI/UX for successful app development comes. It is purely UI. It has been found that people often confuse UX with UI and I am not surprised.
IMPORTANCE OF UI/UX FOR SUCCESSFUL APP DEVELOPMENT
For those who don't understand the technicalities of a good design, UI or user interface makes the interface beautiful. It is more art than technology as it concerns with the simplest yet the most impact of things like widgets, animations, choice of colors, the spacing between fonts, type of fonts, style of buttons, click/tap behavior and much more.
UX is more like a byproduct of UI. Without a good UI, the UX will rank much less in terms of user satisfaction. In simple words, UX or user experience as we call it is the process of enhancing user satisfaction and improve various factors like accessibility, usability, and comfort or ease of usage.
The balance of a flawless UI and an easy UX is fundamental to any good UI/UX design agency. It is, therefore, necessary to have both, sound knowledge about the design process of an app and mindfulness about the desires of the end users. It should not only be good but also 'look' good.
The statement can be explained by drawing gastronomical references. A customer in a restaurant will truly enjoy its meal only if it is not only good in taste and texture but also aesthetically pleasing.
A well-presented dish increases the desire to eat it, manifolds, a great UX does the same with the UI. Users are more likely to use your app if it 'looks' good. It is only after checking out its looks and aesthetics that the user is going to download an app. Hence UX must never be underestimated. It is for the same reason that apps with great features and excellent functionality don't get the due share it has anticipated. A good UI/UX design agency understands the importance of a great functionality and attractive design.
HIGHER DOWNLOADS FOR BETTER UI/UX
Talking about user downloads with a great UX, the chances of users downloading an app increases by a considerable percentage. However, the chances that a user will delete it if it doesn't serve its functionality and has drab features are greater. You sure might dig in if the food looks good and pleases your olfactory senses. However, you won't savor it till the last bite, and/or quit eating if it tastes bad, is uncooked, or stale.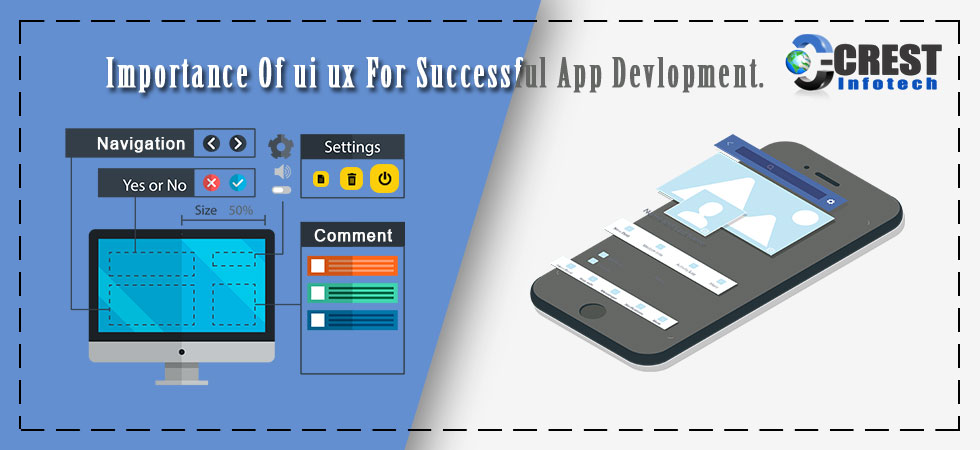 UI and UX work in harmony and for successful app development, one requires a good UI/UX design company. A neat and simple design facilitates seamless completion of user tasks. A good UX makes the interaction of the user with the screen, rather smooth and maintains a logical and hassle-free flow from one sequence to another. With a great UI, the user can proceed through tasks and screens smoothly.
The idea is to serve the functionality with minimum clicks. Thus, to make a successful app it is mandatory to have excellent UI/UX features.
Crest Infotech is a leading UI/UX design company that creates engaging and alluring designs and functionalities for maximum user interaction that is seamless and smooth. Call us or drop a mail for further details.