Since last one decay traditional cloud computing has become a game changer. Fog Computing – The Future of Cloud, is defined a group of computer and server connected together over the internet. The popular current approach is to centralize cloud data processing in the single site. As a result, it will be lower cost and strong application security. It has certainly become a standard in IT environment.
FOG COMPUTING – THE FUTURE OF CLOUD
But as we move into significantly more connected world where we want to support many new things and applications, This world is moving in direction of IoT so we are starting to see a greater need for computing capabilities closer to the users and things.
The IoT promises rich functionalities such as connectivity and the development of new functionality is often data motivated. These devices need computing resources to process the acquired data. However, fast decision process is also required to maintain a high level of functionality. Traditional approach can present few issues like scalability and reliability where data is generated or collected by edges devices or detected by a sensor.
If a server becomes overload in tradition approach then many devices could be unusable. This need is driving the next wave of innovation- something like "Fog Computing – The Future of Cloud" so we can count that FOG COMPUTING paradigm is largely motivated by a continuous increase of IoT devices.
WHAT IS FOG?
This is a perfect analogy for the impending future of Industrial Internet of Things(IIoT) computing. In general, fog is clouding close to the ground. The similar thing we'll implement in IoT field. In IoT, the fog is defined as a cloud technology close to the things.
WHAT IS FOG COMPUTING?
The terms "fog networking" and "fog computing" is a decentralized computing architecture whereby data is processed and stored between the source of origin and a cloud infrastructure. This result improves the performance of computing in cloud platforms by reducing the requirement to process and store large volumes of superfluous data.
AIM OF FOG COMPUTING
The goal of fog computing is to improve efficiency and reduce the amount of data transported to the cloud for processing, analysis, and storage.
HOW FOG COMPUTING WORKS?
Fog computing will provide a standard based way to distribute compute, storage and application resources and services closer to the user along the continuum from the cloud things.
While edge devices and sensors are where data is generated and collected, they don't have a computer and storage advanced analytics and machine learning tasks.
In a fog environment, the processing takes places in a data hub on smart devices, or in a smart router or gateway, thus reducing the cloud. It is important to note that fog networking complements not replaces cloud computing.
BENEFITS OF FOG COMPUTING
Frees up network capacity:
Fog computing uses much less bandwidth, which means it does not cause bottlenecks and other similar occupancies.
TRULY REAL TIME
Fog computing has much higher experience than any other cloud computing architecture. Since all data analysis is done at the spot, it represents a true real-time concept.
BOOSTS DATA SECURITY
Collected data is more secure when it does not travel. Also makes data storing much simpler because it stays in its country of origin.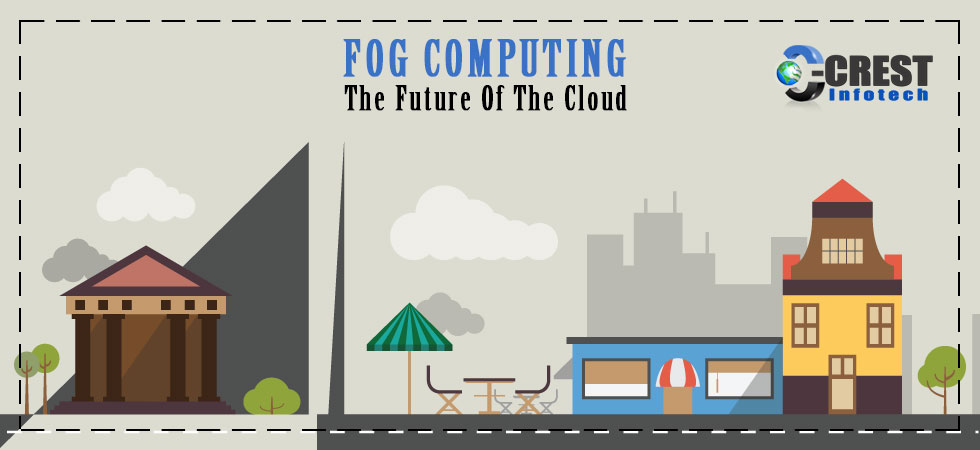 WHERE DOES FOG COMPUTING WORK BEST?
Fog computing works well in a cloud-based control plane to provide control to broader insight across a large number of nodes.
These include transportation, Architecture, wind energy, surveillance, smart cities, and building. Let's have a look how fog computing implements at smart cities and smart buildings.
SMART CITIES AND FOG COMPUTING
Smart cities also struggle with safety and security, where time-critical performance requires advanced, real-time analytics. Fog computing addresses security, data encryption and distributed analytics requirements.
SMART BUILDINGS AND FOG COMPUTING
Building automation demonstrates the need for edge intelligence and localized processing.
Here each floor or even individual room could contain its own fog node that is responsible for performing emergency monitoring and response functions, controlling climate and lighting. Also, it provides a building resident compute and storage infrastructure to supplement the limited capabilities of local smartphones, tablets, and computers.
CONCLUSION
Thus, the growth of the IIoT has increased the need for edge, and cloud platforms. Our embedded system thus allows you to leverage your particular IIoT hardware and network infrastructure.