When it comes to Apple, the technology is ought to be versatile. Apple recently launched the latest Apple watch 3 with enhanced features, upgradations, and smooth functionalities. Here is your guide to the best iWatch app development company.
YOUR GUIDE TO THE BEST IWATCH APP DEVELOPMENT COMPANY
It has especially taken a great leap in the health industry, music app industry, and mobile connectivity. With apple watch 3 being able to make and receive calls from your wrist without the handset. Furthermore, it will allow you to view text messages and emails. Also, it enables you to listen to your favorite music. Hence, the Apple watch market has seen considerable growth in customers.
With all these functionalities that it offers, companies are marching towards hiring an iWatch app development company to get apps that are compatible with iWatch.
Top companies vouch about creating the best app for your business. However, it is often found that most of them don't do justice to your business. The app is nothing but drab, which does no good, neither to the users nor to the business.
Crest Infotech is a leading iWatch app development company in India and USA providing impeccable services across the globe. For years, our developers and designers have crafted outstanding apps that does justice to a business.
IWATCH APP DEVELOPMENT COMPANY – CREST INFOTECH
Our work doesn't end here. We help you with the approval of your iWatch on the Apple app store. Your app is made strictly adhering to the guidelines that are meant specifically for Apple watch apps.
While you create an app, you should keep in mind the size of the apple watch. We provide the best seamless interaction between the user and the app on apple watch. Our team at Crest Infotech always stays ahead in trends and we create an app keeping in mind the latest upgradation in the Apple watch series.
Our development capabilities give you a smooth penetration into the watch market. Having worked in several industries, we understand that different businesses have different requirements.
Scaling a wide spectrum of industry verticals, Crest infotech is crusading at a fast speed covering fashion, e-commerce, healthcare, retail, education, travel, information technology and start-ups. To stay on the leading edge of the apple phone market, businesses are quickly realizing the importance of penetrating into this exciting segment.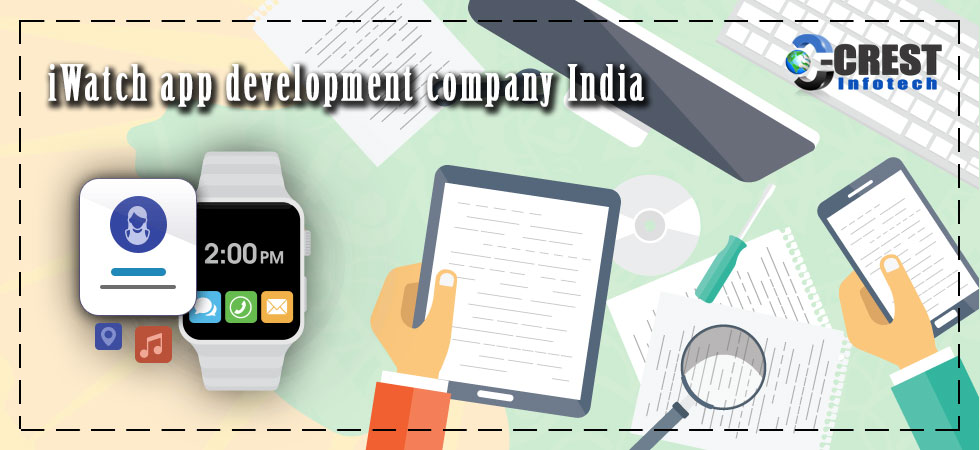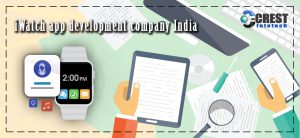 Our company in India and USA have developed the skillset, resources, and infrastructure that meets the demands of iWatch app development needs. Moreover, our endeavor to help you with gaining a substantial position in the niche market of apps for apple watches have gained many businesses across the globe and established them as a strong force in the watch app development market.
With smartwatches being manufactured by giants like a fossil, Titan, Sony Ericson, Armani and MichealKors, we are slowly expanding our expertise in developing seamless watch apps that are compatible with smartwatches universally.
Help us provide you with a smooth penetration in the promising market of watch apps.