Google Analytics is arguably one of the most powerful web analytics applications available today. The core things that, like many Google offerings, it's an entirely free program, makes it even more appealing. Here are our thoughts for How to Use Google Analytics to Get a Better Website.
GOOGLE ANALYTICS TO GET A BETTER WEBSITE
Knowing your audience and what they want is an important success factor for any website. The best approach to know your audience is through your traffic stats. Moreover, Google Analytics provide this for FREE. However, there are lots of stats software and plugins, but we believe that Google Analytics is a must have for every blog.
It shows you: Who visits your website – user's geographical location, which browser did they use, what is their screen resolution, which language they speak, etc.
WHAT THEY DO WHEN THEY ARE ON YOUR WEBSITE
You can see how long users stay on your website, what pages they are visiting the most, which page is causing the users to leave most often, how many pages an average user is viewing etc.
When they visit your site – you can see which time of the day is the hottest for your website. Consequently, this helps you pick the time to publish your posts. If that time zone is not compatible, then you can schedule your posts.
How users interact with your site's content – You can see how many users clicked on a specific link.
WHAT IS GOOGLE ANALYTICS?
Google Analytics is a FREE service that provides full statistics regarding the visitors to a website. Data available through this service consists of site visits, page views, bounce rate, average time on site, pages per visit and percentage of new visits.
One more thing the data mentioned above, Google Analytics can also track referral traffic including search engine, direct visits, website referrals and marketing campaigns (Pay Per Click, Banner advertising, e-mail marketing etc.)
If you have a mailing list, create a custom page on your website that recognizes users for subscribing after they submit their information. Then set up that page as a targeted goal called Mailing List. (Something you will easily recognize as a mailing list conversion).
LEAD CONVERSION
If you have a contact form on your website that you use to capture leads for your business, create a custom page on your website that thanks users for submitting their contact information. Then set up that page as a destination goal called Contact Form. (Something you will easily recognize as a contact form conversion).
Furthermore, if you have a shopping cart on your website to sell products, you likely have an order confirmation or thank-you page that users land on once they've successfully completed an order. Set up this page as a destination called Shopping Cart. (Something you will easily recognize as a shopping cart conversion).
google-analytics-to-get-better-seo
GOOGLE ANALYTICS TO GET A BETTER WEBSITE
Analytics displays your data from all channels that are directing traffic to your website, including Organic Search (SEO), Paid Search (PPC), Social Media, Referrals (Backlinks), Direct Traffic.
Being able to display all the platforms allows you to review what is working well in terms of advertising, and what isn't. Having all the data in one place makes it easy to compare the different channels. If you are currently putting money into your SEO, PPC, or Social Media Marketing, you can monitor your ROI.
It's all good knowing how many people have visited your site, and where they came from, but how do you know if those users are actually converting? Google Analytics allows you to set up goals to track when a user completes a certain action on your site. Regardless of how many users each channel is driving to your site, you need to know that this traffic is converting.
WHY EVERY WEBSITE OWNER NEEDS GOOGLE ANALYTICS?
Do you have a blog? Do you have a static website? If the answer is yes, whether they are for personal or business use, then you need Google Analytics. Here are just a few of the many questions about your website that you can answer using Google Analytics.
How many people visit my website?
Where do my visitors live?
Do I need a mobile-friendly website?
What websites send traffic to my website?
What marketing tactics drive the most traffic to my website?
Which pages on my website are the most popular?
How many visitors have I converted into leads or customers?
Where did my converting visitors come from and go on my website?
How can I improve my website's speed?
What blog content do my visitors like the most?
Google Analytics allows you to track many important metrics, covering all aspects. You can monitor the effectiveness of your online marketing strategies, onsite content, user experience, and device functionality. All these statistics show you what is working well, and more importantly, what isn't.
Furthermore, Once you identify any issues your site may have, you can create a solution. Google Analytics allows you the information needed to improve your website and make it the best it can be.
It is completely free of charge. Although it is a free tool, it still offers just as much or even more functionalities when compared to other paid tools.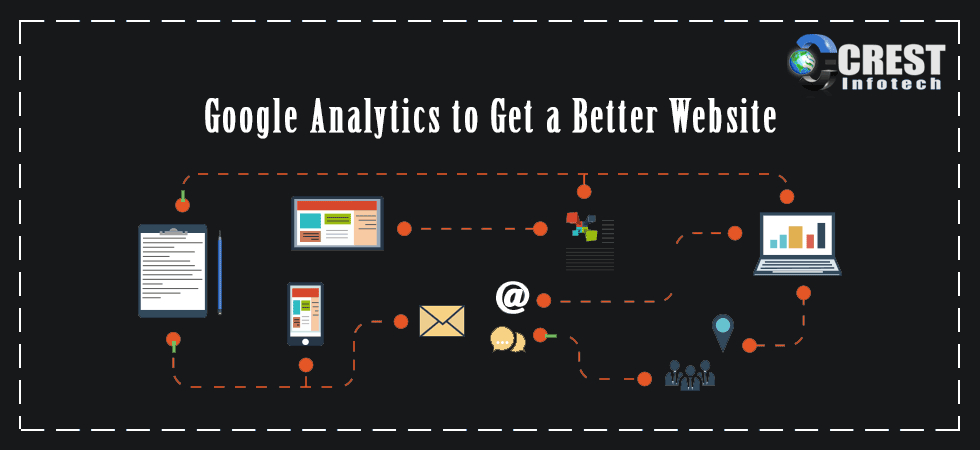 KEYWORDS TRACKING IN GOOGLE ANALYTICS
Adept to find out how your visitors locate your website. Other than the core set of keywords that you are optimizing, you will also be able to find out what other keywords your visitors type in to find your website. During the basic optimization campaign, the number of keywords may be little. But as time goes by, you will start getting more keywords being listed on organic listings, due to your overall optimization effort.
In addition to this, Adept to analyze which pages and links your visitors click the most. You will be able to know which are the popular pages and links. Also, measure whether your optimization campaign is directing the traffic to the correct pages.
VISITOR SEGMENTATION
With this, you will be able to know how many new visitors that your search engine optimization campaign brings to you. You can segment your analytic result by new /returning visitors, geography and referral sources.
Adept to fine tune your website. With this analytic report, you will be able to make your website and do a new copywriting on any page that is not converting well. In the end, it will bring you more quality prospects, and thus gain more customers in the near future.
Basing your business decisions on empirical data is crucial to ensure you have enough evidence to suggest that you aren't simply throwing your money away. Google Analytics is split into four key reporting areas; Audience (who is visiting your site), Acquisition (how they are getting to your site), Behaviour (what they are doing on your site) and Conversions (have they completed what you wanted them to), each of which is useful for difference purposes.