"CREST = A comb, The Top of Hill". From the name of it, we can see how it stands Crest in the field of Technology!
As in Humans, we are saying that someone's behavior depends on their name. Same as in organizations or business market one can judge the potential of an organization.
The word 'Name' is invented to differentiate or knows the importance of things in this world. We have names of each and everything in this world. why? Because one can observe the Act, potential, behavior, and most differentiate from other in common.
Imagine, how will be the world if everyone with the same name or there is no word like a name. then!!! scared!! how can we call others? If we want something or want to talk with other whom to call with the same name. if we do, then all will occurred to ask, yes, did you called me! Did you called me!…Aahh! Suckss!.
So from this confusion, we got the word name to each thing. it's not that one can't use the same name to other but in that also it's using another sub name to differentiate from same.
Eg: There is a person named "Jack" and his friend name is also 'Jack'. Confused!! right?
So here the first name is Jack. but there will be a sub name which we call the last name which will be different, as "Jack pittorson" and another one will be "Jack Lucalino". Same in Non-leaving things we can differentiate the things. Eg: In the Business organization, If a company name is "Crest" and the same someone has, then how the customer can collaborate?
HOW CREST INFOTECH STANDS DIFFERENT
As per procedure from MCA ( Ministry of Corporate Affairs ), India has made it very simple & Efficient, and we can get the company formed in just 7 days. In registration there, you can see the list of availability of Names by which you can't be messed with another company name with same. So if there are two companies with crest name but then we can identify it with letters like Uppercase, Lowercase. Eg: one will have name "Crest", "crest", "CRest", "cresT", CresT" etc.
Here same, our "Crest Infotech" stands different from others and it is registered company under governor Act. One can identify this company name by you can see there is First letter 'C' in the crest is capital "Crest" and in Infotech first letter 'I' is capital "Infotech". You can directly reach us Crest Infotech.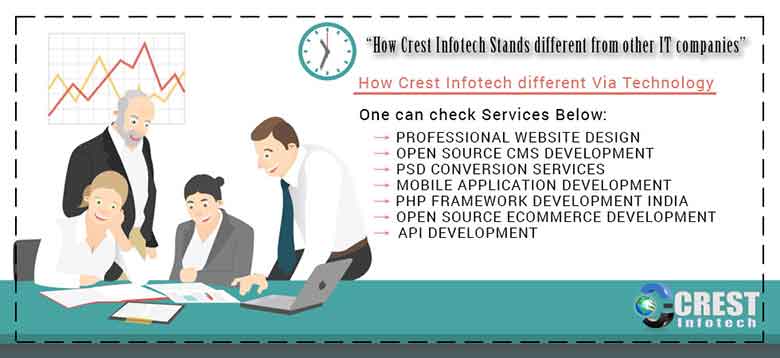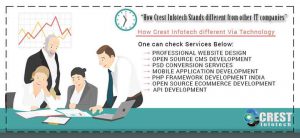 HOW CREST INFOTECH DIFFERENT VIA TECHNOLOGY
We have seen many Applications in a market which are very good? Is that what you want by quality? Is that satisfy you? We have seen many people prefer Freelancer to get their job done in cheaper. but are they satisfied?
But Crest Infotech though not a freelancer neither cheaper as the freelancer. They have it's own position in the market and have a great success with their clients since 2009.
PROFESSIONAL WEBSITE DESIGN
OPEN SOURCE CMS DEVELOPMENT
PSD CONVERSION SERVICES
MOBILE APPLICATION DEVELOPMENT
PHP FRAMEWORK DEVELOPMENT INDIA
OPEN SOURCE ECOMMERCE DEVELOPMENT
API DEVELOPMENT
CREST BUDGET
"Crest in neither Cheaper nor Costly" it believes in Pure Quality of work with the clean code. Sometimes due to market competitions there occurs a pitfall in cost and budgets. Crest have faces failure and success in its journey. We know the market of outsourcing and foreign market, which have huge rates in their projects like in Website development $25 per hour starting and in Mobile App development $30 per hour starting. But has there are 'honeybees'(Freelancer) in the market which makes Handcuffs to the client with their sweet talks. So due to this type of market broker, some agencies have to adjust by cost.
But Crest will never adjust their quality and clean code with their client, they can manage with money but not with clients happiness.
Everyone works in their comfort zone and shows their best but "Crest wants to be at crest" and can able to work out from the comfort zone.