Finding right Web Development Company for your dream web development project is challenging indeed. Laravel can help you in creating web applications. It's an Open source PHP framework. After the first release in 2011, Laravel has grown and now it's considered to be the best PHP framework.
Laravel comes with very useful and unique tools that are very helpful to boost performance. Because of its stress-free coding and modular programming Laravel is one of the top preferred choices of developers.
But the Question is How to find Best Laravel Developers? Hiring Best Developers is always a hard thing to do. You need to be sure of so many things before hiring any Developers. He must be well qualified, good communicative skills and can be a perfect fit for your team.
Let's Discuss Top 5 Tips to choose Best Laravel Developers
TECHNICAL SKILLS
Technical is a very important factor when it comes to choosing the best Laravel Developers. Laravel Developers needs to be Technically Strong. A better option would be to Hire Laravel Developer from reputed companies who have a better idea of various techniques used in web development and its implementation.
The person with in-depth programming language will be able to handle the project in an effective manner. The Laravel Developer should be well conversant with programming knowledge of PHP and HTML in terms of technical capabilities.
CHECK PORTFOLIO/EXPERIENCE
A portfolio is a living and changing collection of records that reflect your accomplishments, skills, and Experiences. It highlights your best work, along with life experiences, values, and achievements. A portfolio accentuates your abilities and what you can offer in the Chosen field.
A portfolio is very useful. It's proof of your skills and abilities. A portfolio can set you apart from your Competitors. You can add your previous work. This tells new clients that you worked before and shows you have a track record. It will add more weight to your skills if you have worked with a well-known company or brand.
CHECK PREVIOUS WORK RECORD
While selecting a developer, it's important that you ask for past projects or sample of work from their previous clients. By doing this you get to know what to expect from them and the quality of work they are providing.
While selecting a good offshore Laravel developer, it is crucial that you check past projects. A sample of works from their previous clients, to know what to expect from them and the quality of work that may be delivered, if allocate work to them. Work becomes easier If they have worked in a similar context before.
At Crest Infotech, we offer complete web development consulting, right from the conceptualization, design, development, integration, and implementation to maintenance. We assist you to gain a competitive edge by continuously improving your web-based business CRM solutions. We can develop and integrate solutions across a broad range of technologies.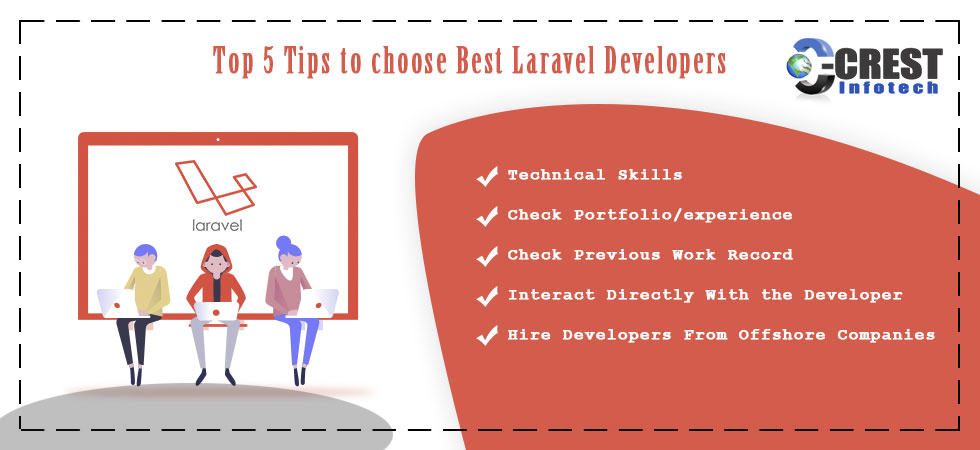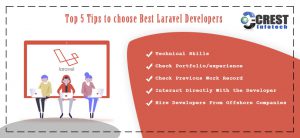 INTERACT DIRECTLY WITH THE DEVELOPER:
To Hire The Best Laravel Developer you should directly interact with the Developer. this will gives him the opportunity to understand what you are looking for. By this way, the idea about your project will be clearer. And there will be no confusion between you and developers. He can easily understand your requirements and you can explain what you are exactly looking for.
A developer can ask any doubts if he have. By this way, you will get to know your requirements match to the developer's skill or not.
You can Mention your preferred functionality
What will be the Specific project needs
You can Estimated delivery and expense
You can ask for the Testing procedure
All your Doubts and Questions can be solved once you Interact Directly with the Developer.
HIRE DEVELOPERS FROM OFFSHORE COMPANIES
Hiring an offshore Development team is a risky thing in terms of resources, people, budget, time and product quality and many more things you need to keep in mind before choosing right offshore companies. Offshore companies are providing High end online and Offline solutions to Clients at affordable rates. when you Hire developers from Offshore companies Skills are not the only important factor to consider. You also need to consider the prices, time zone difference, Communication skills, Management style, and cultural difference.
The main advantage of the offshore company is that it ordinarily has a decent Management framework and the group works in one space. by this communications, will be much easier and faster. With the offshore companies, you will have benefits of project support once the project goes live.
Finding the best Laravel Developers is tough. You need to do lots of preparation. But if you're looking to launch a successful Business project, just stop hesitating..! It's the right decision to Hire Crest Infotech's Laravel Team. They are Dedicated and Skillful developers.
You can Hire Laravel Developer for part time, full time and scheduled time of period for your business development process. Contact Crest Infotech to know more about Laravel Development services in Details.