Many companies are entering this market, but due to the high level of competition, they aren't capable of making an impact. One of the mistakes that many of these companies are making is not investing in their digital marketing efforts to support the overall marketing objective. Therefore, we will discuss Significant Components of Digital Marketing in this article.
Whether you're a medical device company or not, not having a digital marketing strategy leaves potential revenue on the table by not reaching the target consumers through all digital channels. A digital marketing strategy is essential to every company's existence.
Significant Components of Digital Marketing
1. WEBSITE
Your website is a vital part of the digital marketing mix, and if designed correctly, can make all your marketing efforts more effective. However, it is crucial to building a professional website design strategy that aligns with the brand platform of your company. Everything is done with purpose towards a specific goal, making it easy to communicate your value.
In today's online landscape, your website must:
Be responsive and mobile friendly
Communicate your company's values up front
Use relevant and up-to-date content
Have product-specific landing pages that can generate leads
Integrate with customer relationship management and marketing automation tools
2. EMAIL
A solid digital marketing strategy requires a strong email strategy. Email marketing is one of the most effective ways to educate large audiences about your product or service. Therefore, it is one of the Significant Components of Digital Marketing.
A successful email marketing strategy will:
Drive traffic to specific points
Educate and inform prospective buyers with new content
Help you stay top of mind
Build credibility
Establish thought leadership
If you want to generate leads, convert leads, and develop a relationship with your customers, you must use email marketing effectively.
3. CONTENT
When we talk about Significant Components of Digital Marketing, we can't miss Content Marketing and ContentPromotion.
Today's consumers are empowered to seek out high-quality digital resources and experiences that lead to better, independent decision-making. Without good content, there's no reason to visit a company's website, read their tweets, open their emails, or care about anything they say.
Most importantly, there's no reason to interact with a company or build a relationship with them. Your company can capture the attention of a potential buyer who wants to know more, but unless your website provides the right content, you won't be able to convert them. Today's buyers want companies to facilitate the buying process by providing the right information needed to make a decision without any effort on their part.
A good content strategy involves the following:
Create content that represents your brand's values and vision
Share relevant content across all social media channels to present your company to a wider audience
Be original and offer a variety of content types
Utilize your current and past successes to compile presentable case studies on your website. This type of content presents your company's credibility and impact on the industry to all website visitors
Ensure that all your content messaging is aligned with the overall brand platform
Use the right content for your target audience
4. SEARCH (SEO)
Did you know that 77% of online health seekers say they begin their session at a search engine? An essential part of your digital marketing strategy, whether you're a medical device company or not, is to search for keywords and phrases that individuals might use to find your medical device.
If your company does not appear in the search results, you should invest in SEO measures and online advertising to start increasing your brand exposure. Furthermore, these keywords are the gateway to reaching your potential customers from all around the world.
5. SOCIAL MEDIA
The most effective form of word of mouth is happening online. Now with social media, consumers utilize these channels to express their opinions, learn about new products, and engage with brands and key influences.
As a medical device company, you must ensure that you are also active on these channels and use social listening tools to be aware of what consumers are talking about in order to address their needs directly and keep track of your brand image.
In addition, your social media presence can be targeted toward building relationships with key industry influences in order to reach a wider audience and generate leads. Overall, "54% of B2B marketers said they have generated leads from social media" (SMO).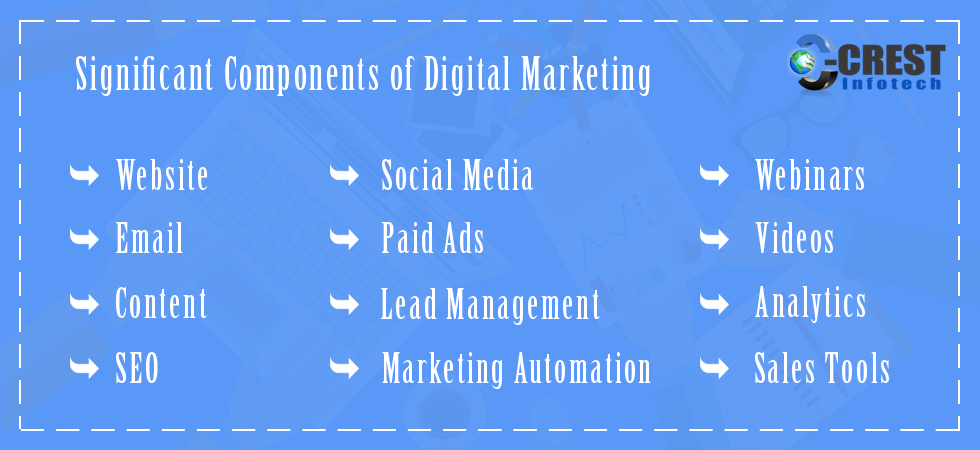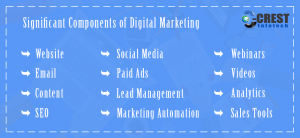 6. PAID ADS
A digital marketing strategy is incomplete without the investment in paid ads. In today's competitive landscape, visibility is key. You cannot expect customers to flock to your website as soon as your product is released. Organic search is very valuable but paid advertisements, such as Google Adwords and display ads, is crucial in gaining exposure in search results.
Here are 5 reasons why you should invest in paid ads:
You can choose to pay only when the interested individual clicks on the ad
Easily control your spending budget Daily or Monthly
You can reach targeted consumers through the right channels
Success results are immediate
It can be used as an SEO testing tool
7. LEAD MANAGEMENT
The overall objective of all your digital marketing efforts is to generate leads. It is your responsibility to be able to effectively manage these leads, nurture them with the appropriate content, and eventually turn them into customers.
"79% of marketing leads never convert into sales. Lack of lead nurturing is the common cause of this poor performance." Do you have a lead nurturing strategy in place? Are you sending marketing qualified leads to your sales teams?
8. MARKETING AUTOMATION
"80% of marketing automation users saw their number of leads increase, and 77% saw the number of conversions increase" VB Insight. Generating leads has no value if your company is not following up on them and nurturing them properly.
One of the key advantages of utilizing a marketing automation system is the fact that it is customizable based on your various targets, sales cycles, promotions, or any other strategic plan. Hence, this process makes it much easier to monitor leads as they move through the sales cycle. Therefore, you can maximize the potential of every active lead that enters that cycle.
9. WEBINARS
Integrating webinars in your digital marketing strategy is key to positioning your company as a thought leader in your industry. Especially in the ever-changing medical device market, it is crucial to continually educate consumers and individuals in the industry to build trust, increase web traffic and brand awareness, and generate leads. Webinars can also be re-purposed for multiple campaigns. Therefore, Webinars is one of the Significant Components of Digital Marketing.
10. VIDEOS
By implementing video in your digital marketing strategy, you create engaging content that consumers can easily view and share. Based on recent research, "64% of website visitors are more likely to buy a product after watching a video". Therefore, every medical device company should take advantage of this video marketing trend and create original video campaigns that present the company's values, product features, and the lucrative benefits to the consumer.
As per our experience, Videos are the most effective Significant Components of Digital Marketing.
11. ANALYTICS
One of the most valuable elements of having a digital marketing strategy is the fact that you can continually monitor the outcomes and be able to optimize your strategy with each campaign iteration. There are several analytics tools that will assist you in tracking the progress of your marketing efforts in order to be able to analyze and adapt over time. This availability of data is key to maximizing your return on investment.
12. SALES TOOLS
Every company, especially one in the medical device industry, requires an active sales force. However, this sales force is ineffective without the right set of sales tools. Your salespeople are your army and you must be able to provide them with the proper ammunition in order to increase your chances of winning in this competitive landscape.
As part of your digital marketing strategy, it is essential to invest in a robust set of sales tools, such as brochures, sales presentations, mobile sales app, and a sales deck, in order to empower your sales force and increase the success rate of your campaigns.
We are now living in the digital age. Therefore, traditional marketing alone won't result in the profits you're looking for. Marketing in digital channels is a requirement. So there is no way around it. Just like you devoted a lot of your time and energy into developing your product, it is essential to invest in a comprehensive digital strategy to introduce your product to your targeted markets and continually manage your brand presence.
Ensure that you measure your actions so you understand your digital footprint and whether you are maximizing the potential of your marketing campaign. When done effectively, this can set you apart from your competitors and lead to sustainable success for your medical device product.