Mobile App Development for Businesses
Mobile App Development for Businesses android & iOS indeed essential for all the business which helps to better customer engagement and satisfaction.
It is important for businesses to consider mobile app development to enhance business transaction with their clients. Many marketers trust that nothing is easier than Mobile application to connect with their customers and it is best marketing tools to develop business.
Mobile apps are revolutionary changing the world today. with the help of mobile phones, they connect with each other. For developing a successful business, an organization must have a website and mobile app in order to evolve their business. Nowadays it's impossible to live without smartphones or any other electronic gadgets.
IMPROVES EFFICIENCY OF YOUR BUSINESS
Enterprise mobility is becoming a Standard for competitive business, earlier, mobility in business focused mainly on general office productivity apps. But now a day's everything is changed, Mobile has become a basic need or any person. In Business, An enterprise mobile app knows where you are and perhaps what you're doing can send you tasks appropriate for your situation.
With increasing demand for stable and secure mobile apps. The development platforms have started offering more users friendly and secure mobile applications. in addition, Mobile apps make it easy to check inventory levels, manage orders, process payments, check daily activity, and view any important information, all in real time.
You can have access to your important data, promotional material, Documents and more at the touch of your mobile screen. You can Share data quickly across your organization with a mobile application that can share data between the cloud and mobile users.
Technical is a very important factor when it comes to choosing the best Laravel Developers. Laravel Developers needs to be Technically Strong. A better option would be to Hire Laravel Developer from reputed companies who have a better idea of various techniques used in web development and its implementation.
The person with in-depth programming language will be able to handle the project in an effective manner. The Laravel Developer should be well conversant with programming knowledge of PHP and HTML in terms of technical capabilities.
ENHANCE CUSTOMER RELATIONSHIP
The most important people in your business are your customers. Most of the customers are smartphone users. furthermore, Mobile apps consume a major portion of their daily routines. It can help you deliver your products and services in a much more effective manner.
Mobile app developers succeed to serve many Powerful apps that enable us to utilize products and services in an instant over Smartphone.
When it comes to Mobile App Development for Businesses, Mobile apps are all about Customer engagement and satisfaction. If you are looking to increase the interaction of your customers with your business. you should provide a level of value to the customers so that they don't go anywhere else. Mobile Applications increase the productivities and efficiencies of organizations.
Communication is one of the best ways to maintain a good customer relationship. You can attract customers via promotional advertisement of your business. like with Attractive discounts, coupons, special offers, and many more.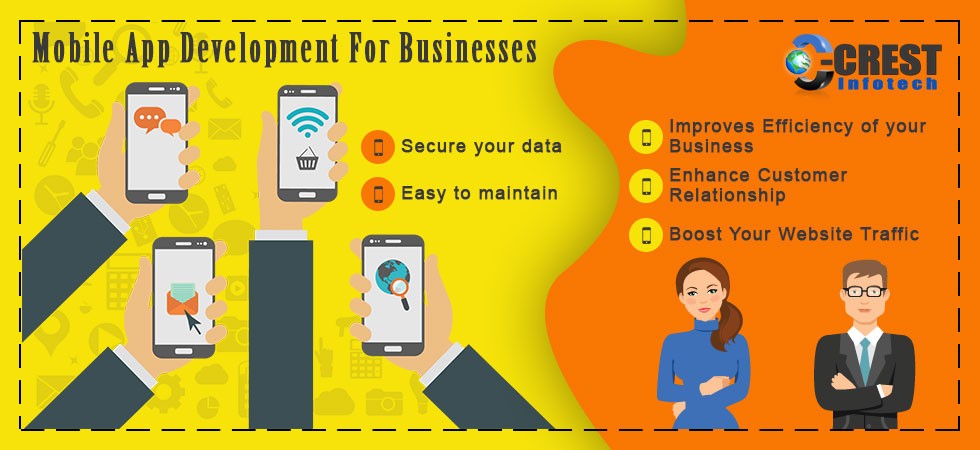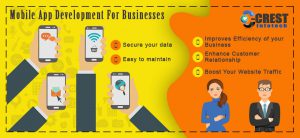 BOOST YOUR WEBSITE TRAFFIC
With the help of mobile application, you can boost your website traffic. Nowadays Mobile App Development for Businesses is the latest trends to boost your website traffic. A properly Optimized app on the app store will receive millions of hits every day. It will not only can you attract more downloads, but also get highly-targeted traffic to your website that can help you to build trust with your customers. Focusing right keywords in the right place will help you to get backlinks from high authority pages. It will increase your app visibility in the app store.
Once you launch your app don't stop there, your work is not over yet, share your app to the world, show your work. And social media is the best way you will get a bunch of traffic. The social media platforms where apps tend to get the most attention. Share your app with your audience .reply to comments and increase engagement. This kind of relationship with your customer will help you to build trust. And once you will get positive reviews the number of downloads will keep increasing.
SECURE YOUR DATA
Security is the biggest factor for Mobile applications. furthermore, Hackers with malicious intention can shoot malware into apps and onto devices as well. where it can access data, store keystrokes, and steal screen lock passcodes. Hackers can steal customer's data for identity theft or fraud purposes. Customers expect an application to be secure. Once you launch your app on app stores. Maybe you've stopped to consider how to secure your app and data?
There are so many ways you need to keep in mind to make a secure application that your customers can actually trust.
Protect your code with Encryption
Test Code for Vulnerabilities
Keep your device OS up to date
Make Passwords Mandatory
Use Solid API Security Strategy in Place: Identification, Authentication another is Authorization
EASY TO MAINTAIN
Once your app is created and launched on app store your work is completed. Of course not, you want to audience to come back and engage more on the platform. As the most popular Mobile operating system Android and iOS release updated versions. Will you not offer an upgraded version your app? So you need to maintain the mobile app. In order to meet users expectations, an app needs constant care Like a vehicle.
With app maintenance, an app will be updated with latest UI, OS version and Advanced features. According to the reports, 52% of mobile apps are uninstalled by the users in 90 days due to poor Maintenance. It can improve the quality of an application. Therefore, it can increase the chances of productivity.
Many companies have made a noteworthy investment in mobile applications and with proper Maintenance, it will be useful. With Mobile App Development for Businesses Mobile apps improve better sale and services for your business.
Whether it's an Android application or iOS Application you Business always need a Mobile application to give a better competition and to grow a successful business.