The Web is an ever-changing world so Makeover Web Development With an Artificial Intelligence is a very important now a days. In this trending world end user expect smarter applications with self-learning capabilities and hyper-customized user experience. So this poses a major challenge for developers: How do they design websites that deliver new and personalized content every time?
Traditional approaches for developmental can be problematic. Building basic layouts and designing the website alone takes time. Moreover, Forget customization for dynamic content. Parallel testing is tedious task becomes for some time.
MAKEOVER WEB DEVELOPMENT WITH AN ARTIFICIAL INTELLIGENCE
Automation the Web Development process, starting with the more structured, repetitive and clearly defined tasks, can help developers pay less attention to cumbersome details and focus on the more value-adding aspects of development such as formulating design strategy, planning the ultimate user experience and other such activities.
Artificial intelligence can help not just with this kind of intelligent automation, but also help do a lot more-form assisting with design conceptualization, website implementation to web analytics.
HOW AI CAN IMPROVE WEB DEVELOPMENT
Let's look at some ways in which AI is transforming web development.
1) AUTOMATING COMPLEX REQUIREMENT GATHERING AND ANALYSIS
Using an AI-powered chatbot or voice assistant, for instance, one can automate the process of collecting client requirements and end-user stories without human intervention.
In addition to this, Kore.ai is one such platform which empowers decision makers with insights they need to drive business outcomes within data-driven analytics.
2) SIMPLIFYING WEB DESIGNING WITH AI VIRTUAL ASSISTANTS
Designing basic layout and templates of web pages is a tedious job for all developers. AI tools such as virtual assistants like The Grid's Molly can help here by simplifying the design process.
Hence, The question entry form is the best form to extract knowledge from users. AI Assistants can create personalized content with the exact combination of branding, layout, design, and content required by that user.
Hence, Developers now need only to focus on training a machine to think.
3) REDEFINING WEB PROGRAMMING WITH SELF
AI programs can perform basic tasks like updating and adding records to a database, predict which bits of code are most likely to be used to solve a problem. The smarter the design and more comprehensive the training, the better the result these systems produce.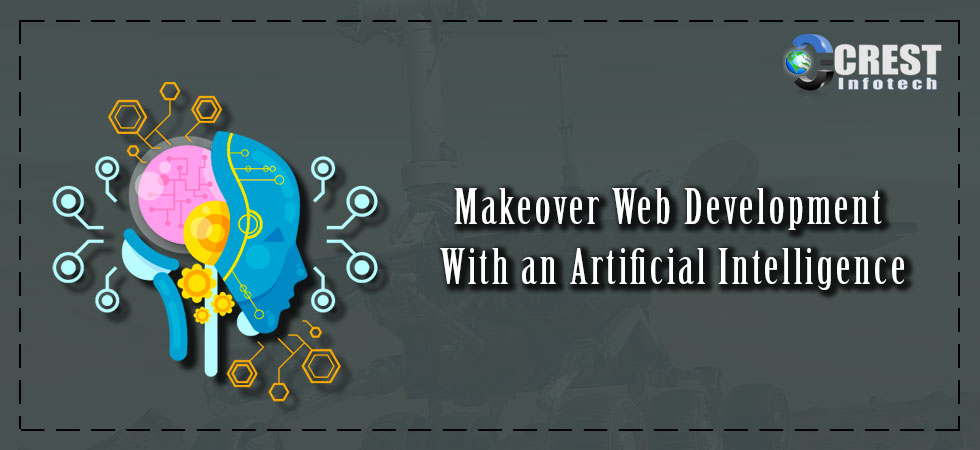 4) PUTTING TESTING AND QUALITY ASSURANCE ON AUTO-PILOT
AI algorithms can help an application test itself, with little or no human input. Moreover, they can predict the key parameters of software testing processes based on historical data. They can also detect failure patterns and amplify failure prediction at a much higher efficiency than traditional QA Approaches.
5) TACKLE FAKE REVIEWS
In terms of creating fake reviews, it is well known as 'Astroturf' and it's widespread across many sites and service. Furthermore, Astroturf is the practice of creating or disseminating a false or deceptive review that a reasonable customer would believe to be a trusted.
6) WEB ANALYTICS FOR SEO WITH AI
An important aspect of SEO is making your Website easy for both users and search engine robots to understand.
Market Brew is one such Artificial Intelligent SEO platform which uses AI to help developers react and plan the content for their websites in ways that search engines might perceive them.
THE PERFECT FUTURE
Artificial Intelligence has found its way into everything imaginable. Within web development, this translates to automated to automated web design, intelligent application development, highly proficient recommendation engines and many more.