What is Application? Research and development work performed to create a situation-specific bridge between new or existing IT hardware-software technologies. The information needs/wants of a customer. The combination of proper hardware, software, and tailored application delivers a well-rounded IT solution for the customer's problem.
WHY ONCE NEED TO DEVELOP AN APPLICATION
It's not that thing that if we are doing a business then it's compulsory to have an application. Nowadays as we are seeing, how the generation is moving with technologies. We can say, to stand in the market one have to make application for their business.
Applications help to reduce time and management flow in flexible. An app is a key to everything. furthermore, Even Google Play is an app. you can find dozens of apps that will help you to estimate the cost of your application, development code tutorials, market research tools, and many others. Many Organization thinks that developing an application is such a waste of time and money but I say that it's not a waste of money "its an investment of money".
TYPES OF APPLICATION
Today, many applications are delivered as Web applications. furthermore, code for these applications resides on a Web server, and users access the application via a Web browser. Therefore, Common examples of Web applications include Web-based email, social media platforms, wikis and online auctions.
Web Application
Website
SaaS
Android Application
iOS Application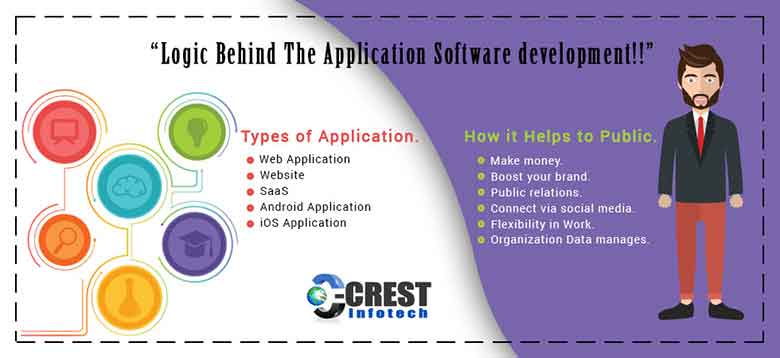 HOW IT HELPS TO PUBLIC
Make money
Boost your brand
Public relations
Connect via social media
Flexibility in Work
Organization Data manages
There is no doubt that IT teams that adopt Agile and DevOps experience a more holistic and collaborative workplace. Projects are more direct and the complexity is reduced. furthermore, This directly correlates with improved internal and external communications. Organizations that perform well within also shine when it comes to offering great service to their customers.
Good applications can become the first line of contact between potential customers and the business. furthermore, The beauty of such applications is that they can be accessed at any time. Even location is no longer a limitation with their help. Of course, only a high-quality Web Development Company can ensure such a facility in their application.
So the simple Logic of application is to be with technology. As we know that Technology destroys human interactions, but It also helps to make quick relations with next generation.
21st century thought – "Technology Grows Humanity".