Wishing everyone a successful 2018. hope you all are ready for the challenges and opportunities that 2018 is going to bring. In 2017 We already Discuss Mobile Applications Trends 2017. Let's discuss Mobile Apps Trends 2018: Future of Mobile App Development
MOBILE APPS TRENDS 2018: FUTURE OF MOBILE APP DEVELOPMENT
In recent years Mobile application development has become a Growing industry. 2017 was an outstanding year for app development with some new Technology and trends. It will continue into next year. Mobile application development is the most actively flourishing sectors in the industry. Mobile Device is the best way to meet client requests and increase sales.
According to reports, Mobile Apps Trends Number of apps downloaded worldwide in 2016 was 149.3 billion. In 2017 that number jumps to 197 billion. moreover, 2021 is projected to rise to more than 352 billion. Users not only interested in Free apps they are also showing good interest in paid apps also. According to reports, the paid apps downloaded in the year of 2011 was 2.89 billion. In 2016-17 was 14.78 billion. You see the Difference? In 2018 that number is likely to grow.
Analysis reports show that from $69.7 billion in 2015. App revenues will hit almost $189 billion in 2020. As the mobile app universe keeps on Growing. In 2018 will see several changes in the overall ecosystem. Older technologies will be eliminated and New markets will be created. In future mobile Apps will become faster, smoother, secure. Prepare yourself to experience some new things that you haven't seen last year.
Mobile apps trends keep changing based on user needs. Below listed are a few trends that are expected to dominate the market this year.
MORE FOCUS ON SECURITY
As we can see more and more applications focusing on security. Most of the applications first priority is Security. Importance of Security of applications to increase in near future. Because of confidential and personal data that every application carries, the most challenging issue of mobile applications is the Security of mobile applications. Every Smartphone and the applications we use for daily basis can hold everything from Personal Information. like Photos, Financial details, in some of the cases even our fingerprints.
AUGMENTED REALITY AND VIRTUAL REALITY IS THE REALITY
Augmented Reality has shown great positive signs in recent times for successful future. If you remember the craziness of people for Pokemon Go in past years. As users have shown great interest, this technology is gaining more and more popularity. We show a great rise in Augmented Reality and Virtual Reality. In the future market, there will be more growth in both AR and VR technology. Both the technologies will continue to experience application development trends in 2018 and in future as well
IOT (INTERNET OF THINGS) AND WEARABLES
As Mobile Apps Trends keep changing. In future, two technologies will change the way mobile apps are developed first one is the Internet of Things (IoT). The other one is Wearable devices. Right now users don't have any option to install any kind of applications directly on their wearable devices. Wearable and IoT devices are for consumers and for business. as well both will need applications to Manage, collect information, Analyze data.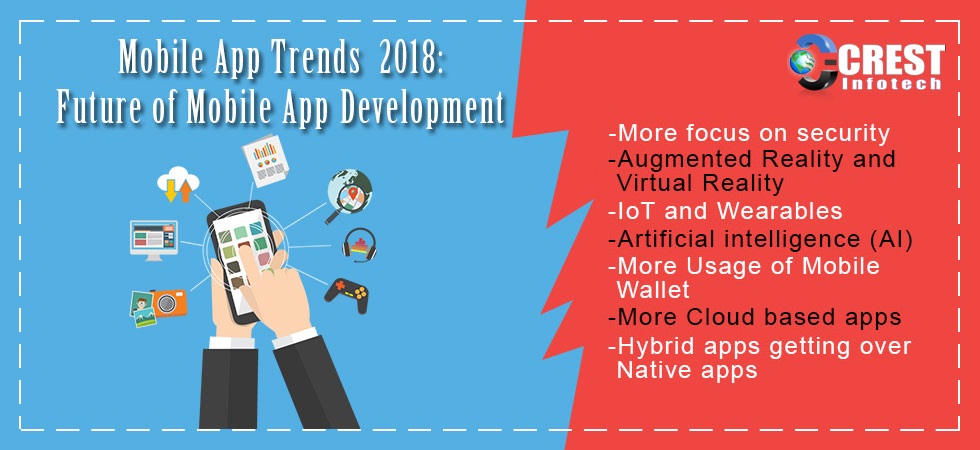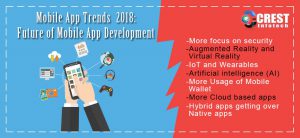 ARTIFICIAL INTELLIGENCE (AI)
AI will have a major impact in 2018 and mobile applications will lead the way. Day to day uses of AI in Applications is already bringing major changes and updating the way we look at the Mobile app industry. Artificial Intelligence (AI) in mobile apps is already covered most of the market for Mobile application.
MORE USAGE OF MOBILE WALLET
There will be a huge demand to build secure mobile wallets which will give complete protection and security to your mobile wallet. To get more and more benefits in future of mobile payments and wallets. Some of the brands are already working on what consumers actually looking for and what problems they are phasing.
MORE CLOUD-BASED APPS
As we can see the increasing demand for cloud-based applications, there will be more Cloud-based apps in future. When you install an application it's obvious it will be used for multipurpose. Lots of useful data in you Smartphone memory also information stored in other apps consume a huge amount of space. Lots of smartphone users phase this problem. But with the help of Cloud Technology, now we have an option which will enable the users to save all the useful information in a dedicated cloud.
HYBRID APPS GETTING OVER NATIVE APPS
Compared to hybrid apps, native apps are expensive and time-consuming to develop. Where Hybrid apps are much faster and easy option for app developers. Furthermore, Most of the Businesses are now moving towards more comprehensive options and showing their interest in hybrids mobile applications. In the future, we will see the huge demand for Hybrid applications.
Mobile applications have made a great contribution to a lot of successful businesses as well as different industries. moreover, Mobil apps have now become a necessity as it increases usability, increasing sales and fulfill customer's needs and requirements.
Applications will become more intelligent like speech recognition and face detection. Apps will recognize your emotions. We are looking forward to new innovations and implementation in 2018. The upcoming year will become a year of growth for businesses and organizations, Developers and Mobile applications. Hence, Active developers always watch out for any unexpected changes in mobile app trends.