Build Your Own Uber Taxi Booking Clone App
Want to make your taxi startup successful like Uber and Lyft? Complete taxi booking app solution considered as the future of transportation. Recreating Uber Taxi Booking Clone App, Crest Infotech develop a fully-integrated custom Uber Clone App, which includes drivers' and customer's app along with an admin panel, which take care of the dispatches and bookings.
Our dedicated team of Mobile app developers knows what exactly it requires to develop an app like Uber. If you are planning to start your full time business in taxi booking, you can take our  mobile application development services from us.
Features for Different Taxi Booking App Solutions
If you want to build a successful taxi booking app, these are the features that you don't want to miss. This list came out of our experience of developing over 50 successful Uber-like apps. We request you to make a list of features you want in your app/solution and send it to us, so we can better guide you with your requirements.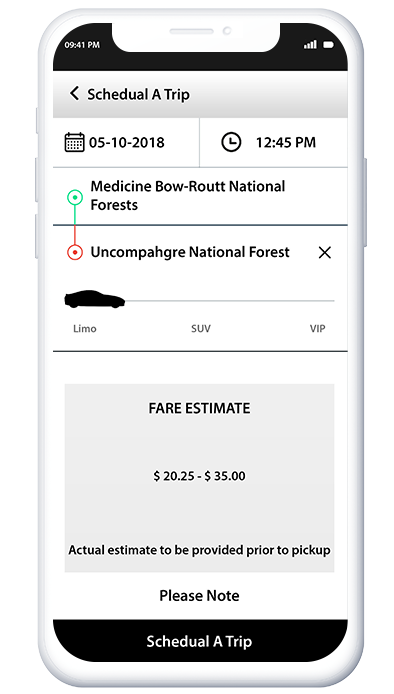 Schedule Trip
Schedule trip in advance as per preferred time, data, and convenience like Uber app. Allow riders to book a ride in advance so that they don't have to wait.

Preferred Driver
Allow riders to mark any driver as a preferred driver so that next time, the request will go to him if he is in the same vicinity.

Favorite Destination
Like Lyft app, allow riders to mark any of their visited destinations as a favorite. With just a single click, they can get their marked address.

Payment
There are two different options for riders to make payment: credit/debit card and cash. Allow riders to make payment of the ride as per the convenience.

Trip History
Check complete information about trips that are completed, upcoming, and cancelled. Even, check the pick-up and drop-off locations and fare for the specified trip.

Driver Review
Just like Lyft taxi app, allow riders to check the reviews and feedbacks of all the drivers. Select the right driver for the journey by considering their reviews.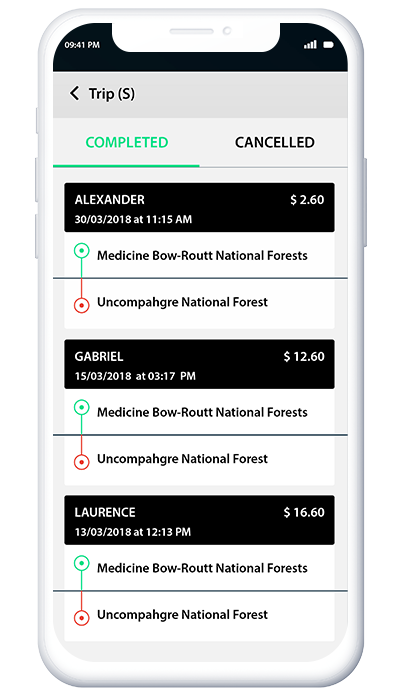 Trip History
Allow drivers to check all the records of completed and cancelled trips. It is helpful for drivers to maintain the records of all the trips.

My Destination
Just like destination trip in Uber, allow driver to enter the predefined routes at the time of heading back home so that he gets requests that come in his route.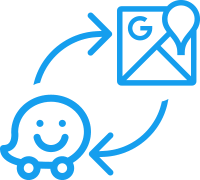 Route Selection
There are two different choices for choosing the right route, including Google Maps and Waze Map. Choose any route that suggested these two options.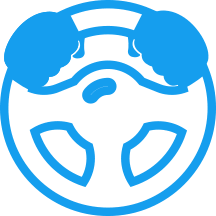 Refer Driver
Drivers will get a referral code to share with other drivers to get privileges. There is an "Invite Friends" button that avails to share the code with friends.

SOS Contacts
Allow drivers to add emergency contacts under this section. If the driver is activating SOS functionality, his added contacts will receive a text message, contain the driver's current location.

Rider Review
It allows drivers to post a review for the rider. Even, drivers are able to check all reviews given by him. Just like Lyft that also allows its drivers to review rider on the scale of 1 to 5 star.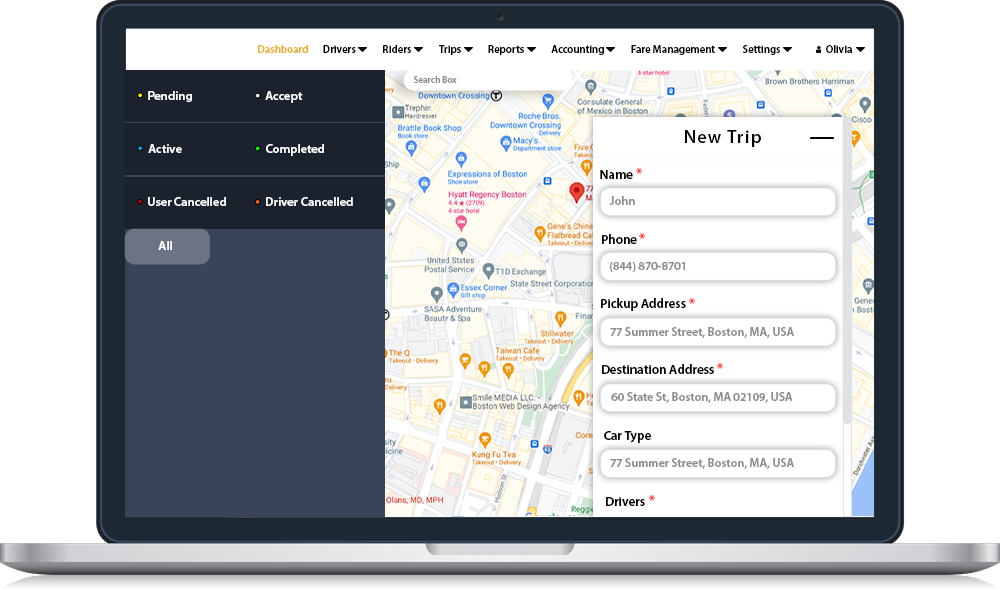 How Much Does It Cost to Build Uber Taxi Booking Clone App?
At Crest Infotech, we assure to provide an affordable pricing for the radio taxi dispatch system/software and execution of the Uber and Lyft like application. While calculating the actual cost of developing a Uber app for Android and iPhone, the platform (Android or iOS) also plays an important role as it affects the total hours of Uber developers. Without discussing more on the pricing of developing taxi booking apps like Uber and safr, we dare to put this analysis of estimation here for Lyft and Uber app development cost.
iOS Application

Sub Total: 695.8
Android Application

Sub Total: 848.4
Web Services (API)

Sub Total: 511
Estimation

Total: 2055.2
Note: Exclude the graphic design estimated hours if it is being provided by you.
Uber for Other Businesses
Uber could be used for any on-demand service you can think of. Whether its on-demand taxi or package delivery, we have built Uber like apps for almost all the categories. Yes, that's right. We take pride in having developed Uber for Business apps of various categories. There is much more in the store, you may have a look at some of our achievements.

We have already developed Uber for delivery app called Ninja Delivery for one of our clients. The app allows people to send any kind of packages to their desired location.

Our dedicated team of Uber developers have already developed Uber for trucking application with requisite features like real-time location tracking, easy-to-access information, logging bills, tracking performance and payment.

Considering our client's needs, we have developed Uber for women application like Gosafr. The developed app only employs women drivers and accept only women and children as passengers.

Uber for food delivery apps like Postmates and DoorDash are especially for food delivery from different restaurants. Browse local restaurants, dishes from those restaurants, order food and pay directly from the app and get it delivered to the doorstep.

With the experience of Uber-like app development, our team also tried its hands on Uber for tutoring app for private coaching classes. Including features like video session, live chat, easy scheduling, in-app payment, we developed a right uber for the tutor's app like scholarly.

With the growing number of kid-focused ride-sharing services, we have also developed Uber for kids solution for one of our clients. The app is especially for kids to give them a safe and easy riding experience.

We have developed Uber for dogs application that is an on-demand dogwalker solution. The app allows users to browse dog walkers, book and make payment.

We change the way people hire a photographer. With the experience of developing Uber for Photographer app solution, we make any type of on-demand photographer solution with requisite features.

Whether you want to create Uber for babysitters or any other on-demand nanny solution, our team helps you to make a right on-demand babysitting application.

As doctors find it difficult to stay connected with their patients, Uber for Doctors is the right solution that eliminates the gap between doctors and patients through live chat option, instant appointments and guidance.
Uber like App Development Process
1Analysis of Requirements

Get to know our client
Comprehending client's requirement
Proposing a solution

2Wireframing & Designing

Blueprint structure
Wireframing each screen
Designing the app

3Development

Coding the app
Layout main sections
Client's feedback

4Testing

Testing the app
100% bug-free
Get final approval from the client

5Deployment

Deploy to App Stores
Deploy to client's server
App available for users
How We Implement And Launch Your Future
Uber Taxi Booking App?
The Technology Stack Behind Uber-like
Taxi Booking App Solution
Frequently Asked Questions
Do you sign a Non-Disclosure Agreement?
Yes, we sign a Non-Disclosure Agreement with all our clients, ensuring that the app idea and other details are completely safe with us. Even, signing and NDA avoids any kind of misunderstanding between us.
What do you provide in a free demo?
We do have one dedicated person, who provides a free demo of the taxi booking solution that we have already developed for our clients. In this 30 to 45-minutes free demo, the dedicated person will cover all the main features of taxi booking solution, including customer's app, driver's app, and admin panel. In fact, he will answer resolve all the queries that you may have related to the taxi app solution.
Should I develop taxi booking app if there are only 10 to 15 registered drivers?
Yes, of course. You can develop your own taxi booking application to expand your taxi business by managing it with a complete solution, including the rider and driver's app and admin panel. By developing the taxi app, you can attract more customers to your business.
How much time will it take to develop Lyft and Uber-like taxi booking solution?
The common question that most of our clients asked us is, how much time it takes to develop Uber like taxi booking app. The approximate time to develop taxi app like Uber is 4 to 6 weeks. But this time varies according to the platform (Android & iOS) you want to develop on, features, and functionalities that you want for your app. We request you to make a list of features you want and contact us to get the exact timeline. We don't charge to send you a quote.
Why should I hire Crest Infotech Technologies for developing my taxi booking application?
At Crest Infotech Technologies, we have experience of developing a taxi booking app solution (radio taxi solution) for taxi startups and entrepreneurs. Our team of Uber developers makes use of the right tools and technologies to develop a technologically advanced taxi app solution. They first comprehend your taxi business and its requirements and then suggest the right solution with the necessary features.
Does Crest Infotech develop Uber Clone App or Uber Clone Script?
We develop features like Uber app but with our own ideas and innovation. We do not develop Uber Clone Apps or Uber Clone Script. Being a white label taxi booking app development company, we develop every single app from scratch.
How will Uber for X solution help my business?
If you own a business that provides services and products that could be demanded like on-demand services then Uber for X or Uber for all solution is your go-to. There are a few benefits we would like to list out here:
Business Management: When you have a feature-rich on demand app for your business, it assists in managing your business activities. All your deliveries, billings, and stocks are managed properly.
Client Retention: An advanced Uber for X solution will be user-friendly helping to enhance the customer experience. Not only will you acquire new customers, but the app will also help in retaining old customers.
Employee Management: The app or solution is not only for clients but it is also for the employees who have direct interaction with the customers and employers. This will give the real picture and help them manage their tasks efficiently.
This is just an overview of how Uber for X can be helpful for your business. If you need more details, contact our Uber for X expert.