Spotify Music Streaming Clone App
Power your music streaming mobile app like Spotify with an on-demand mobile app development that keeps your users engaged and getting revenue from in-app purchases.
If you are also looking to hire best mobile app developers to create native Android and iOS Spotify music streaming clone app, we have an experienced mobile app developers team to customize and develop Spotify music streaming clone app. We reinvent internet-based music streaming clone apps for iOS and Android platform with use of advanced tools and technologies.
Our team follows agile app development process to build top music streaming clone app like Spotify, allowing users best user experience to listen music, audio, share playlist with just a few simple taps on the screen.
The Birth of Spotify, One of the Top Music Streaming Apps
Spotify, one of the best music streaming services on the planet, packed with a lot of new music. Spotify idea came into existence when Martin Lorentzon and Daniel Ek met in 2005. Both have a lot of ideas and have spent huge time just to discuss tons of ideas.
When they sat around the media HTPC machine and thought that, it was difficult to get content easily, regardless of the technology has been around like Napster since 2000.That's the reason Martin and Daniel got an idea of a Spotify app

A Surprisingly Good Way to Search New Music
Launched in 2008, Spotify, free music streaming app, has completely changed the way people listen to music. Spotify allows users to play music directly from the cloud instead of first downloading it. Spotify became popular as a startup and giving tough competition to Apple's iTunes
Having in demand, people are thinking to develop app like Spotify that has more than 30 million tracks and save some prestigious holdouts like The Beatles. Spotify is available for free, however, people are interrupted by ads in its free version.
Spotify runs on all devices, including tablets, PCs, smartphones and even, television-connected set-top boxes. Having different capabilities in different platform, Spotify's platform is centered on playing music and now, videos.
Excellent Features of Music Apps like Spotify
Podcasts
View lyrics
Shuffle play
Artist profiles
Friend Activity
Personal Library
Crossfade tracks
Sort and Filter
Download music and podcasts
Play Queue and History
Search for any Track, Artist or Album and Listen for Free
Create & Share Your Own Biggest Music Collection
Allows to Take Your Own Track Offline
Dozens of categories to choose from
Having Editor's Choice Section
Word' Section to Learn Another Language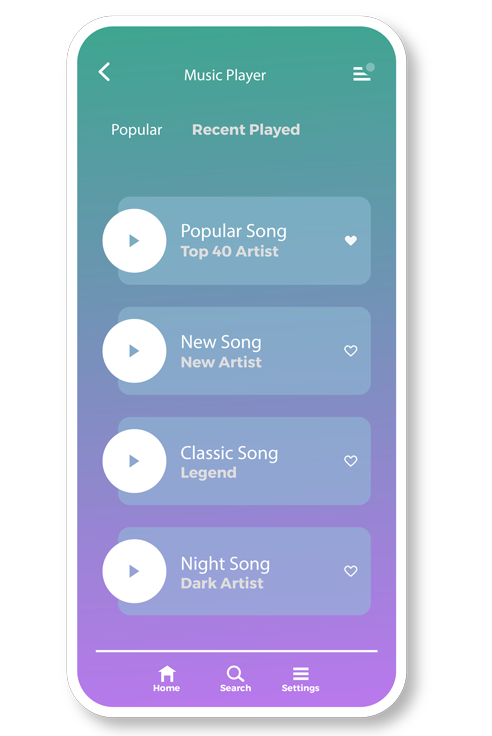 How Much Does it Cost to Make a Music App Like Spotify or SoundCloud?
If you want to develop a music app like Pandora or Spotify, you have to consider many factors from designing to development, streaming, Music streaming license and hosting cost. We give assurance of affordable pricing, however, the cost of the app also depends on the platform on which you wanted to build a mobile app and other related things. It would be better to talk to us directly about your requirements. Below is listed our developed Spotify like app.
WavLinkz
WavLinkz application connects individuals of the given area with the latest and most popular music available. If you want to play music from the Spotify and Soundcloud, install application and search from the database or simply pull it from their respective playlist.
Similar to Music Streaming App like Spotify, this application shares your favorite song, allows you to listen to the trending songs and Like and Share songs. Here, the main aim is to connect with the people and communities through music sharing with searching or following people.
Schmoozer
Schmoozer application enables users to search people around them with specific interests. It allows users to login with their Spotify account. This application allows access Spotify with just a few tap and shares among other people, who have the same interest.
How We Implement And Launch Your Future Music Streaming App?
Technology Stack Behind Music Streaming App
Frequently Asked Questions
How much does it cost to develop a mobile app?
The cost of developing an app can range anything from $2000-$300000. This is because you need to consider various factors including app platform, features, development company, developer's charge among others. Simple apps cost less while complex apps cost more depending on the functionality.
I have a fixed budget of $1500. Can I create a music streaming app in that Budget?
The cost of an application depends on the features you want to integrate. As we are developing mobile app, which are different from those available in the market thus, a fixed budget won't work.
Does Your Developed App Works Across Platforms?
We believe in developing native apps is the best option. We have a experienced team of iOS and Android app developers to develop Spotify app for Android and iOS.
What would be the timeline to build Spotify app from Scratch?
It requires detailed analysis, scoping and documentation to define the timeline. You can contact us to share your requirement details.
How to make money with App like Spotify?
There are many ways app owner can earn through Spotify like App such as:
Will Crest be able to create app like Spotify that will stand out of the jumble?
Definitely. We have a team of experienced mobile app developers, who fulfilling the client's requirements after huge research. We develop app from the scratch, test it and after that, delivering to the client.
Why Crest is An Ultimate Choice for developing App like Spotify?
Crest Infotech always delight its clients by delivering project on-time with excellent quality. We make our clients happy and even they appreciate our work by giving positive words. Check out our testimonial page for more information.