Salesforce is the world's first rank of CRM Platform and is very Innovative and Cloud-based. Salesforce started as Software as a Service (SaaS) CRM company. Salesforce provides Different software solutions and a platform for users and developers to develop and distribute custom software. Using Salesforce, you can develop applications that could work on any mobile platform.
SALESFORCE CRM DEVELOPMENT
Salesforce is one of the world's first cloud computing companies, which founds in 1999. Salesforce led the charge with cloud computing. It is easy to develop your applications on Salesforce if you don't have good programming knowledge. You can simply do the drag and drop. It can help you with your customer relationship management.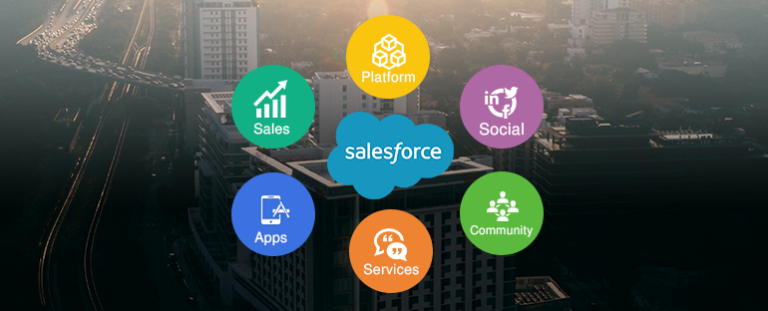 SALESFORCE SERVICES OFFERED BY CREST INFOTECH
WHY CREST INFOTECH FOR OF SALESFORCE CRM DEVELOPMENT SERVICES?
At Crest Infotech
At Crest Infotech, our proficient Salesforce CRM Developers can take your business towards new heights of success. With Salesforces, multiple customers can share common technology, and all run on the latest release. Salesforce, you can access a wide range of products and services. Force.com is a salesforce cloud base platform that allows developers to create multinational applications that integrate into the main Salesforce application.
Our professionals
Our professionals can easily live up to your expectations with full proficiency. You can generate information about new trends and technologies in the industry and centralize client information using our Salesforce CRM Development. Crest Infotech has been working in this field for a long time and can easily deliver customized business solutions just as per your expectations and requirement.
BENEFITS OF SALESFORCE CRM DEVELOPMENT
There is no risk when using Salesforce. Due to its low acquiring costs and low-risk management, there is very little to lose and a lot to benefit. With the Salesforce CRM Development, you can maintain detailed customer profiles so that they can identify their biggest fans and market more effectively. Not all Business is the same, so we offer customized solutions to help them to stand out from the rest. Salesforce CRM development allows you to upgrade your Salesforce CRM application to improve your business operations.
There is a huge demand for Salesforce professionals across the globe. Salesforce is certainly emerging as the largest platform for business solutions. At Crest Infotech, We have a Dedicated Salesforce development team where you can Hire highly skilled and experienced Salesforce CRM developers and get the experience of professional services. Don't wait, Contact us today!
Think Website Call Crest Infotech! Looking for a Quick Quote regarding your project?