Crest Infotech is a ReactJS Development Company. We offer dedicated and cost-efficient ReactJS services. ReactJS is the fastest growing JavaScript library for building user interfaces. By using ReactJs, it becomes easy to develop high-quality front-end apps with better design, structure, and user interface.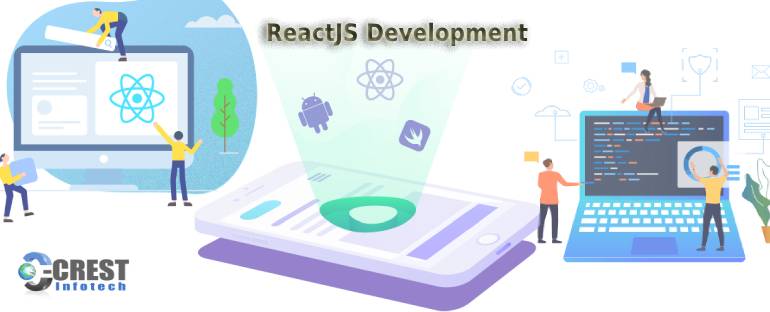 REACTJS DEVELOPMENT SERVICES
We have Experienced ReactJS developers who offer custom software development services. Our Expert developer builds world-class cross-platform mobile applications.
REACTJS WEBSITE DEVELOPMENT
We have a Dedicated team of React Developers that deliver High-end web development solutions. We deliver highly scalable, SEO friendly, and responsive apps.
AT Crest Infotech, we have Experienced Designers to make Impressive apps with React UI Framework. Our Expert UI Designers build interactive UI/UX for an amazing web experience across multiple devices.
ReactJS Migration Service
Migration for Web and Mobile Applications. We Ensure seamless migration for web and mobile applications. Our ReactJS developers will help you to migrate to this futuristic technology framework. Not just Migrate the app's built-in other frameworks to ReactJS but also make sure the performance of the app remains the same and even gets better with time.
ReactJS Plugin Development
Hire an Expert ReactJS Developer from Crest Infotech to extends the functionality of your web app. We will help you to customize plugins that can provide additional features to your web applications.
BENEFITS OF REACTJS DEVELOPMENT SERVICES
At Crest Infotech, We provide the Best ReactJS Development services to meet your unique project requirements. We have experienced and skilled developers for modern technologies like Node.JS, AngularJS, React.JS, etc. From startups to big companies, we provide custom ReactJS development services to businesses of all shapes and sizes.
Let's Build a Powerful Web or Mobile App. Crest Infotech Understand your needs and are committed to making a top-notch product. Contact Us to Hire ReactJS Developers who are having experience in building ReactJS applications.
Think Website Call Crest Infotech! Looking for a Quick Quote regarding your project?