Crest Infotech is a leading company offering PHP Development Services at an affordable rate. Our highly skilled Developers in PHP Development triggers us to provide Professional PHP Development services. We have years of experience working with all the leading PHP Frameworks and web technologies like WordPress, Magento, Laravel, CodeIgniter, Joomla, and much more.
Crest Infotech offers a custom PHP Web Application Design and Development solution. We help with web development services that construct to make the best, robust, speedy, and fast loading web applications.
PHP Development is one of the fastest-growing open-source web technologies for making static and dynamic websites. Two significant benefits of PHP Development and are low cost and high-performance solutions. PHP is a server-side scripting language that suits websites and web application development as it can embed with HTML5. Moreover, MySQL is one of the most famous databases application.
PHP Web Development can be the right option if you are looking for top-quality functional website services. PHP platform supports several frameworks. It is a trusted choice of many web developers and users worldwide. In a dynamic website design, the content of the website will be updated by website owners regularly. One should frequently update the website time-to-time to get more traffic into the websites. PHP Development is a universal solution for creating dynamic web pages.
WHY SHOULD BUSINESSES CHOOSE PHP DEVELOPMENT INDIA?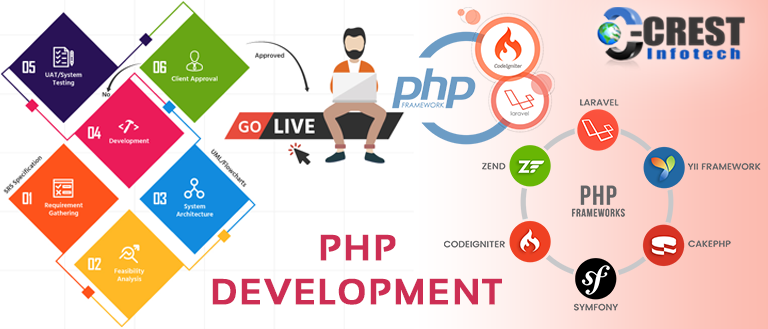 PHP is a web solution
PHP is a web solution platform used for Design feature-rich websites with dynamic web and database access. Moreover, interactive websites can build by using the PHP Platform. The Web Development professionals working with us have complete database skills, ensuring that the data is stored and retrieved in an optimized manner. The Web Developer knows front-end Web technologies like HTML5, CSS3, Web Framework, jQuery, and JavaScript also.
One of the major benefits
One of the major benefits of PHP/MySQL development is, PHP is open-source. Therefore, the PHP platform offers several connections to popular databases like MySQL, Oracle, ODBC, and much more. Furthermore, it is compatible with all the leading operating systems like Windows, Linux, and UNIX. PHP Platform supports several leading frameworks like WordPress, Magento, Laravel, CodeIgniter, Joomla, and much more.
Being a popular website Design
Being a popular Website Design and Development company in India, we have worked with several startups and established companies. We have the required capability and high-skills to deliver the best PHP Development solutions that help you achieve long-term business goals and the Best ROI.
WHY CHOOSE CREST INFOTECH FOR PHP DEVELOPMENT INDIA?
We have a Web Development team of experts and highly experienced PHP developers who provide custom PHP web development solutions as per your project requirement. We've worked on several Website Development projects that made us sure about the fact that we can work on any PHP website designs and developments.
Crest Infotech is a Web development company to deliver complete end-to-end PHP Development services that deliver a better business experience. We have good experience in the MVC model (Model view controller). Therefore, we can build up impressive, efficient, and reusable web applications using PHP Development. We are well-equipped with High-Experience and have a pool of qualified PHP developers. Hence, we're confident that our client gets 100% satisfaction when they are choosing us for PHP development solutions.
Crest Infotech always gives suggestions during project discussions for delivering you the perfect solutions as per your project requirement. In addition to that, our highly experienced PHP/MySQL developers can help you to become a leader among your competitor and lead you towards success.
If you want to know more about our PHP Development service, then Contact Us or Call us on +91 96870 42303.
Think Website Call Crest Infotech! Looking for a Quick Quote regarding your project?