Crest Infotech has a team of dedicated experienced Java Developers. We provide end-to-end Java development services which are targeted to deliver Profitable Business Solutions. Create a rich and scalable Java Application that add value to your business. At Crest Infotech we understand the requirements of our clients at every stage of the app development process to deliver custom-made Java Solutions.
JAVA DEVELOPMENT SERVICES
At Crest InfoTech we have dedicated a team of Experienced Java Developers who have successfully developed a large number of effective and scalable Java applications. At every stage of the application development process, we understand the requirements of our clients.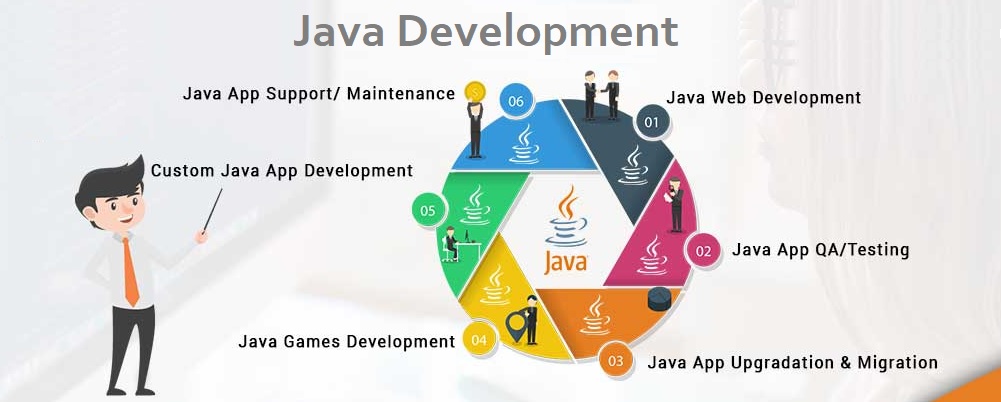 JAVA APPLICATION DEVELOPMENT
You can build Fast and secure websites and web apps with our expertise in Java Web Development services. Our Java app developers use the latest tools and technologies also keep your Java application updated for better user satisfaction.
J2EE APPLICATION DEVELOPMENT
J2EE is an environment for developing and deploying enterprise applications. Platform independent and flexible. Our Dedicated Developers have good experience in web services, J2EE applications, e-commerce apps, and enterprise applications.
Java Mobile apps Allow business to grow in the mobile marketplace. for better user satisfaction our java app developers keep your Java applications updated. As a Leading Java Development Company in India, we can craft secure and scalable Java applications for Mobile.
We have great Expertise with java development services to create a Robust CMS for your business. Develop high-end CMS for your business to serve productive business growth.
ENTERPRISE JAVA DEVELOPMENT
Crest Infotech offers Java Development Services for large enterprises to strengthen organization consistency and efficiency. we can help you to Increase your Business Growth.
JAVA APPLICATION PROGRAMMING
Crest infotech will make it possible for you to Hire Java Programmers. Our team is well equipped with the right skills to develop robust and secure applications for different sectors.
ADVANTAGES OF JAVA DEVELOPMENT SERVICES
CUSTOM JAVA DEVELOPMENT
We have a team of skilled Java developers with a good industry experience that allows us to create custom Java code that suits your project.
JAVA MAINTENANCE AND SUPPORT
We Provide Java Maintenance and Support for your business. with java Maintenance and support we can Ensure smooth and consistent flow of java websites and applications. We can provide Maintenance and support you require for your project.
WHY HIRE JAVA DEVELOPER WITH CREST INFOTECH?
No matter what your requirements are our Dedicated Java Developers provide cost-effective solutions as per your needs. With the latest tools and technologies, we deliver perfect solutions to our clients. At Crest Infotech Our Experienced Java Application Developers are certified in the related field. Our main aim is to help your business grow.
Get in touch with us to Hire Dedicated Java Developers. We offer the best solutions at Competitive prices Contact us now.
Think Website Call Crest Infotech! Looking for a Quick Quote regarding your project?