The logo isn't just an image or design; it is much more than that. The logo speaks about your brand and gives a personality to it. Companies put in a lot of time and efforts to get a perfect logo that defines their brand by way of an image and becomes its identity. The logo is the first clue that a prospective customer or client uses to make a first impression.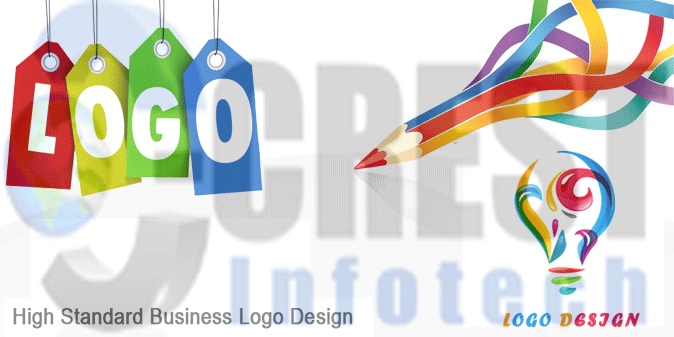 So it becomes very important for any brand to get their logo made by experienced hands and minds. The design for the logo should not be made in a rush. Rather, an ample amount of time should be spent on discussions to finalize a design that perfectly says the story of your brand. At Crest Infotech, our graphics designing team holds great experience and expertise in making a perfect logo for your band that gives it a personality.
BENEFITS OF HIRING LOGO DESIGNER FROM CREST INFOTECH
The designers at Crest Infotech are well experienced and hold great expertise in their respective fields. They are very well aware of the latest trends and are always up for satisfying our clients with their industry leading designs. The work of logo designing needs a lot of creativity and our designers are best at it. They will come up with unique design languages and graphics that are sure to please you.
Our designers are well versed with latest technology and software required for graphic designing and other developments. Class leading software and tool; like Illustrator, Corel Draw, Photoshop, InDesign, etc. are used for bringing out the best results. These tools provide one stop solution for all types of graphic designs and our designers have a great experience in using them.
It becomes very difficult to take out time for every single thing separately. To cater this problem, we act as a one-stop shop for all your design related work. The designing and development team at Crest Infotech holds expertise in various other fields like graphic designing, web designing, bootstrap designing etc. We always try to provide all types of web related services under one roof for the comfort of our customers.
COST EFFECTIVE
Pricing at Crest Infotech is very competitive when compared with similar services from other brands. We provide cost effective solutions that are capable of catering every need of the customers. You will get a personalized quote based on the amount and complexity of the work.
CUSTOMER SATISFACTION
Crest Infotech strives to satisfy every client and customer with their needs. Our dedicated team works hard to bring new ideas and create a logo design according to your requirements that reflect the message of your brand.
KEY CHARACTERISTICS OF A PERFECT LOGO DESIGN
Think Website Call Crest Infotech! Looking for a Quick Quote regarding your project?