Hire HTML5 Developer Staffing Services for Custom HTML5 Design and Development solution. Hire HTML5 Developer from Crest Infotech on a basis of as per your project requirement. Crest Infotech Provides Offshore Staffing Services for Custom HTML5 Design and Development services.
Hire our dedicated HTML5 developer from Crest Infotech and get efficient Web Design services at affordable cost. If you want to create eye-catching websites Design for your business then HTML5 is a perfect Web language for structuring and presenting website for the World Wide Web.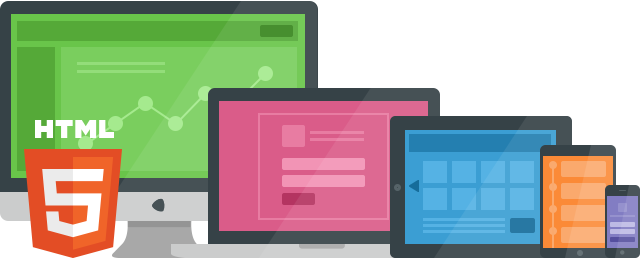 HTML5 is a programming language used for structuring and presenting a web site and other web content on the World Wide Web Platform. Hire HTMl5 Developer and get complete and affordable Web Design and Development services. It is basically a core technology markup language
It is the era when we are majorly dependent on our online presence and the websites play a major role in this regard. To stand out from the crowd you need to create something that catches everyone's attention for good and here comes the role of an HTML5 designer. Hire our HTML5 Developer and design professional website design who holds a good amount of experience in creating an eye-catching website design.
Benefits of Hire HTML5 Developer
KNOWLEDGE OF HTML5 DEVELOPMENT
HTML5 Development is a new coding language, so it requires a professional to handle it. A beginner may not be well versed with the concept and may not be able to do the necessary. On the other hand, an HTML5 developer is well aware of the new concepts and will make the coding part much better.
SAVE PRECIOUS TIME AND MONEY
Hire HTML5 developer you can easily save both your precious time and money. The experts know what they have to do at first place and if you were to do the thing then you will take much more time figuring out the process at first place. It will not only hamper your time but also cost you much.
In order to cater diverse customer needs, we provide competitive price quotes for all services. The combination of affordable rates and world-class service is one of the biggest highlights of Crest Infotech. Hire HTML5 Developer and get best web Design on affordable price.
CSS3 AND JQUERY EXPERTISE
Hire HTML5 Developer is compatible with all sorts of latest web development platforms like CSS3 and JavaScript. It can be used for development of websites and apps for various platforms as it is compatible with all the latest platforms. HTML5 is considered very secure web technology and developers make use of all these technologies to provide better results and Best ROI.
WHY HIRE HTML5 DEVELOPER FROM CREST INFOTECH?
HOW IT WORK: HIRE HTML5 DEVELOPER
If you wish to have a leading online presence with the best attributes of graphics Design, video file, audio and animation Design, then certainly you must Hire HTML5 Developer for web design. As an enhanced version of HTML & HTML4, HTML5 enabling you to add advanced multimedia Design features to attract Web site visitor and further engage the online visitors & turn them into potential buyers. Being a leading HTML5 development Company, we always stand by our company commitments to render optimal service quality for complete and 100% client satisfaction.
Crest Infotech is the largest HTML5 app design and development company in India offering web services of our seasoned HTML5 app designer and developers on hire basis for business enterprises worldwide. Our Html5 designer and Developer teams of expert HTML5 app developers at Crest Infotech comprehend your business web design requirements and design, develop solutions that are aimed at improving your online business market presence.
HTML5 is the leading thing in the world of Web designing which is a build-up to help the Web coders in developing more appealing and effective websites, we offer an array of web features that are visible on the entire makeup of the web. With our High-dedicated team of experts, you can set your own design timeline for the project. Daily project reporting and dedicated numbers of an hour in a week will always keep you in control and you can track your project. You can communicate with on a daily basis and will get a daily work report at the end of the day and weekly also.
Our talented HTML5 developers are blessed with enhanced technical skills and operational talent to render ultimate best results within the stipulated time frame. Our expert HTML5 professionals blend their experience with vast knowledge to build up websites with HTML5 that are compatible with most of all the leading web platforms. We offer you complete most compatible solution with HTML5 Designer and Developer services.
Think Website Call Crest Infotech! Looking for a Quick Quote regarding your project?