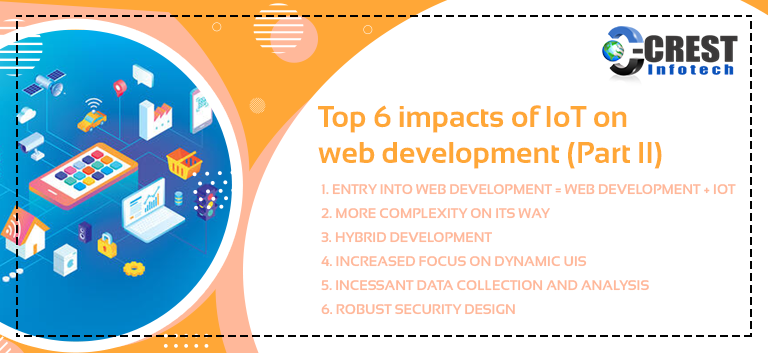 Top 6 impacts of IoT on web development (Part II)
Continuous data collection
The long and perilous method of collecting user reviews on live websites is one of the most serious issues in web development in general.
You can only learn so much from search patterns and cookies before you have to come up with your own explanations for why those features are used more or less than you had hoped.
Given the centralised, database-reliant existence of IoT devices, it should come as no surprise that the data stream is bidirectional.
IoT systems are very capable of collecting actionable data from their users (within the bounds of legal rights and requirements).
Should the need arise, this data can easily be retrofitted into future web development iterations.
Without the inherent ability of IoT devices to gather data and relay it back to your servers, continuous data collection and system creation would be nearly impossible.
As a result, long after the device is released, the web development team will be swamped with bug fixes, feature additions, and UI overhauls.
Seeing how widespread the reach of IoT devices has become, dynamic user interface creation is nothing new on the market.
With current development trends, the role of the web developer in UI and UX design is only going to grow.
IoT devices, like any other piece of hardware, require complex user interfaces to meet the needs of a wide range of user profiles.
As a result of this need, web developers will have to completely reconsider their approach to UI design.
IoT devices with web capabilities are typically used for research purposes and to view various types of data.
This data is often presented in the form of infographics, maps, and other types of visualised data, all of which require the IoT system to respond to.
In terms of multitasking capabilities offered by IoT devices, the emphasis on UI micromanagement in web creation is bound to bear fruit.
Aside from the obvious need to monitor simple appliances like sensors or security codes, IoT devices with strong web programming would offer users a lot more flexibility in terms of their capabilities.
Emphasis on security features
Finally, IoT devices are also severely lacking in terms of digital protection. The lack of advanced security features in current IoT devices (without web-based coding) is causing concern among the general public.
It's also one of the many valid reasons why IoT production and scope haven't progressed as rapidly as they should have in recent years.
This is where web development will really shine, as it enables developers to include appropriate security features to their device's code.
Regardless of how insignificant they can appear to the untrained eye, access control, user authentication, and identity verification must be standard features of modern IoT appliances.
A simple breach of access to a household's temperature control IoT system can result in serious social issues, putting the company in charge in a bad light.
Web developers with ample encryption skills will be able to add a lot to the already-existing and soon-to-be IoT devices.