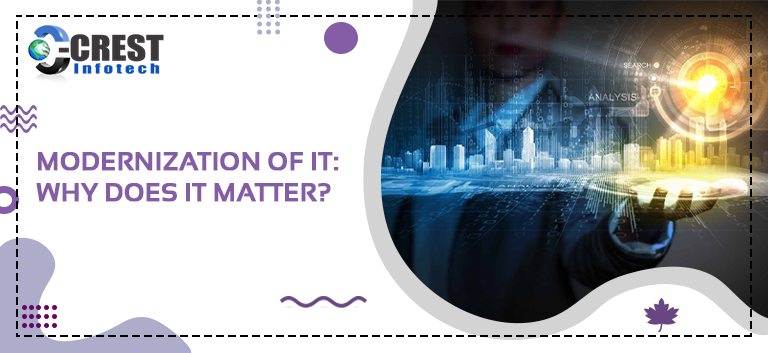 Modernization of IT: Why does it matter?
We all have heard the buzz around IT modernization and how it supports digital business transformation. Really, what does IT modernization mean?
IT modernization will vary across businesses, industries, and personas, but it ultimately means leveraging technology to meet expanding business goals. It means aligning IT Business units to compete in the current digital economy. It means digitizing and boost the customer experience to improve service levels and construct a market at a different level.
Let's jump into a few reasons companies decide to modernize IT root and some familiar examples of IT modernization.
What is IT Modernization?
The IT industry has a lot of definitions for IT modernization. Consider how much telephone technology has evolved since 1876. Every step of the way, advances in phone technology have transformed how we communicate. Embracing new technologies and processes to modernize how communication occurs also changes how business happens.
In the same way, business IT modernization is the process of managing or moving away from aging software and hardware solutions and often involves consolidating systems and workflows in favor of more automated, innovative solutions. With phones, it might be taking the premise of two-way radio and modeling it into a mobile telephone.
It may be the journey in the business of how businesses incorporate customer order and fulfillment knowledge. The days of taking fax, email, or over-the-phone orders and inserting data manually into a backend ERP system are gone, and then spitting out acknowledgments, invoices, and shipping documents that we have to print out and return by fax or email. Modern technologies for B2B integration, such as EDI, automate this and speed up these order-to-cash processes.
Modernizing IT also involves accepting cloud, cloud-first, and data center methods, where third party hosts all of the hardware and software the organization uses as much or as little as possible.
Modernization should then happen in managed service and as-a-service services to account for these resources and skills gaps.
Three Key Success Factors for IT Modernization
Modernize Applications and Data
1. Align IT with the Business
The alignment of IT and business strategies within the organization is the first crucial step towards modernization, determining which improvements align with the overall business strategy, finding opportunities to comply with the vision, and developing a well-thought-out plan.
2. Simplify and Advance IT
Organizations are discouraged from reflecting on their strategic goals by unnecessarily complicated processes. Aging IT estates will run up expenses, delay efficiency, and slow the speed of change. Organizations should incorporate a technology upgrade that involves lean processes and automation to optimize costs, increase workflow placement, and remove outdated or underused systems, services, and data.