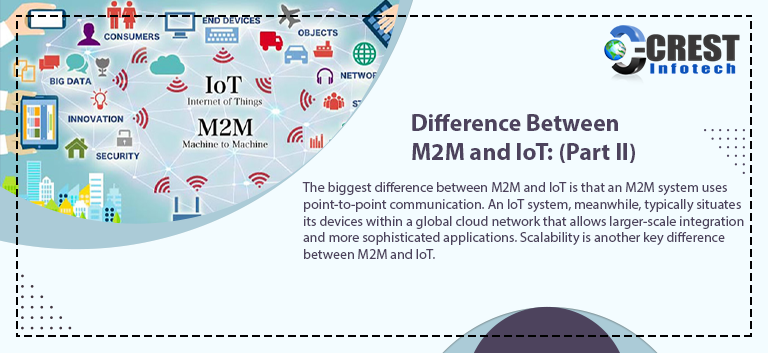 Know the Difference Between M2M and IoT: (Part II)
What are the methods for establishing connectivity?
The methods by which IoT and M2M achieve remote system access differ significantly. Point-to-point communications with hardware components embedded in the computer are important for M2M.
These connected machines then communicate with a dedicated software application through a proprietary cellular or wired network.
The Internet of Things, on the other hand, uses standards-based IP networks to link devices to a cloud or middleware platform.
What are the connections?
M2M links machines to machines, while the Internet of Things takes machine-to-machine networking, incorporates web applications, and connects it to the cloud.
M2M uses isolated sensor systems and islands of remotely collected and measured data, while IoT brings disparate systems together to allow new applications.
Simply put, the Internet of Things (IoT) is a network of connected devices that is more than just computer communication.
What is the purpose of the data?
As previously mentioned, the ability of both IoT and M2M to boost business efficiency through remote connectivity-powered data collection is their most important application.
It is important to remember, however, that each solution uses these data in a different way.
Data from machine-to-machine systems is typically only used in a few basic applications, most of which are related to maintenance.
In service management systems, M2M data is usually used in point solutions. If it is achieved at all, data integration with enterprise mobile apps is uncommon.
Meanwhile, IoT takes things a step further by combining user and sensor data with big data, analytics, and other enterprise mobile apps, something M2M seldom does.
Not only does the Internet of Things have predictive maintenance, but it also enhances business processes and operations.
While M2M data is undeniably important, the functionality of data from these systems pales in comparison to the business applications of data from the Internet of Things.
The landscapes of suppliers
When it comes to the supplier landscape, M2M and IoT applications have different competencies, which has a direct impact on their users' ability to get the most out of their solutions.
In M2M, the supplier's expertise is usually limited to the "plumbing" aspects. The cellular telecommunications networks and embedded hardware, in particular.
Many M2M vendors have begun to incorporate cloud capabilities by acquisition, partnering, or internal growth, and this is a good example of a new territory.
On the other hand, IoT vendors place a greater emphasis on software capabilities, especially enterprise integration.
In a nutshell, both technologies enable machines to interact, capture, store, and share data; make autonomous decisions; and complete tasks with very little human intervention.
M2M and IoT, on the other hand, are not interchangeable words. There are a variety of business solutions available.
The main differences between M2M and IoT are how they achieve communication, what they want to communicate, how flexible they are, and how data is used.
Nonetheless, both machine to machine and the Internet of Things imagine a future in which all devices are equipped with "smart" capabilities that enable them to communicate and interact with other devices over long distances.