Want to have fun by freaking people out with photos of spirits and ghosts?
It's nearly an impossible task to see a spirit in real life, but technology has made that very much possible. Obviously, it's not a real spirit that you see but a classic illusion which apps like Ghost Lens are designed to create.
If you are also looking to hire best mobile app developers to create native Android and iOS GhostLens Photo Editor Clone App, we have an experienced mobile app developers team to customize and develop GhostLens like application. We reinvent internet-based photo and video editing apps for iOS and Android platform with use of advanced tools and technologies.
Our team follows agile app development process to build top photo editing app like GhostLens, allowing users best user experience to upload photos and edit them with just a few simple taps on the screen.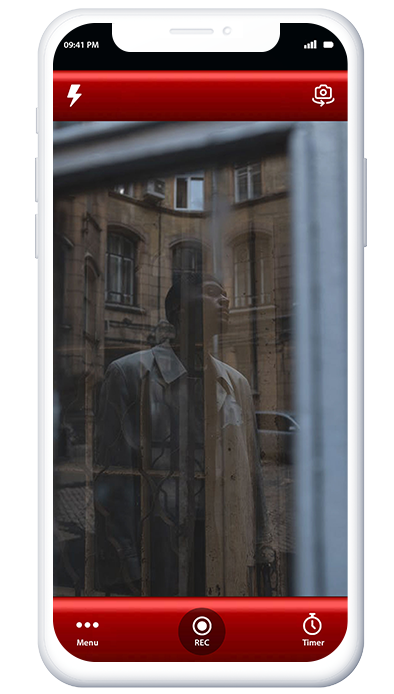 Ghost Lens is a Unique App
Photo editing and sharing have become so mundane that tech companies are more focused on developing unique photo & Video apps that can add immense value to the current app market and come up with something that's ground breaking.
Since the advent of Ghost Lens, app developers have changed the way they look at photo and Video apps. Ghost Photo Maker is fun and innovation wrapped in mobile application that sends photo lovers into a frenzy of creativity.
Offering an app that can create illusionary effects like a ghost, a body floating in the air, or swapped body parts, is out-of-the-box thinking. It's no wonder that replicating this technology is what most developers are after these days.
Why GhostLens Clone App?
Ghost Lens is a ghost photo app with a difference. It allows you to click photos and shoot videos, edit them with ghost effects and share them on Facebook, Twitter, Instagram, and SnapChat.
With its ingenious 'Fade in' and 'Fade out' effect it is possible to change the transparency of characters in your photos and videos to make the ghost effects appear more pronouncing. The app supports video recording of up to 15 minutes, and if that's not enough then there are lot more things that you can do with this dexterous app.
What We Offer
Owing to these exclusive features, Ghost Lens is very much in vogue these days. Developers are trying to simulate the ghost effect and take the app to another level.
With Crest Infotech equipment, man power and resources, creating an app like Ghost Lens is a job half done. You can hire React Native Developer to develop GhostLens Photo Editor Clone App in iOS and Android both at affordable cost.
Some of its important features include:
Creating your own ghost in photos and videos both
Application of filters FX and adjusting filter strength in each section of photos or videos
Supports Landscape mode
Has beautiful adjustable layouts
Offers image filters
Can click or upload videos, photos from your picture library
Comes with a built-in timer
Making collages photos
Adding background music and adjust volumes in video collages
Has the ability to zoom each frame individually and move each video and image
Includes the 'undo' feature
Saves your masterpieces to your library
How Much GhostLens Photo Editor Clone App Cost?
We offer affordable app development and customization. There are a lot of factors that affect the pricing of the app, for example, customization, the platform on which the app is to be built, etc. Average time to create an app like Ghost Lens would require approx "760 hours". Here is the detailed analysis and estimation. Check it out.
iOS Application

Sub Total: 760
Estimation

Total: 760
Let's get in touch with us. We will be happy to discuss with you on your app idea once we have the basic information. If you want to compete with Ghost Lens like application, you need to integrate unique, the most-demanding features in your application. That's the only way you can compete.
How we Implement And Launch
Your Future GhostLens Photo Editor App?
Technology Stack Behind GhostLens Photo Editor App Solution
Frequently Asked Questions
How much time does it take to create an app like Ghost Lens?
We have done a wide spectrum of work as far as developing photo applications is concerned. For a detailed knowledge on the same please check out our portfolio of the app that we have developed so far.
How do you create an app like Ghost Lens?
Ghost Lens is selfie editor plus photo video editing app which is having number one photo & video app in five countries and having over 7,000,000 downloads. We have bunch of photo apps which has also having more than five millions downloads and our photo and video client are extremely happy when their app is perfomring better than expected. We are not just having expert developers but we have developers who are working on photo and video category apps since last three years. When we are saying cloning that means we are wanting to make app better than Ghost Lens. In fact, it's not a clone as it's totally customized app. It includes unique features.
How good are you at creating a UI and UX design?
Our team of proficient UI and UX designers have enough experience for us to say that we are one of the best in the field.
Are you able to integrate social media APIs like Facebook, Twitter, and Instagram in the application?
Most definitely. Our experience with social media integration is good enough to understand how important social media sharing is for the popularity of mobile apps.
Do you have a business model for apps like Ghost Lens?
Sure, we do. Our business model is based on in-app purchase that will give you a good Return on Investment. The apps that we develop are exclusive of any advertisements for a hassle-free usage.
How much do you charge and what is the timeline to make an app like Ghost Lens?
Before we fix the budget and timeline, we need to be sure that we have all the important details for the project. Details like analysis, documentation, and scoping are the prerequisites. Initially, we ideate and brainstorm about what differentiates an app from the others with the clients, and once we have a clear-cut frame, only then are we able to define the exact cost and timeline.However, in case you have budget constraints, we can work you through it to ensure the best MVP and state-of-the-art results.
Can this app help me generate revenue?
Yes, a mobile application can help you generate revenue in more than one ways. We have listed a few for you:
Advertisements–
Implement rewards / Price / Points System–
In-App Purchases: There are 'n' number of ways which can help you make money using in-app purchases, like:

Free or paid versions of apps
Selling functionalities like photo and video effects
Selling images with effects, etc.