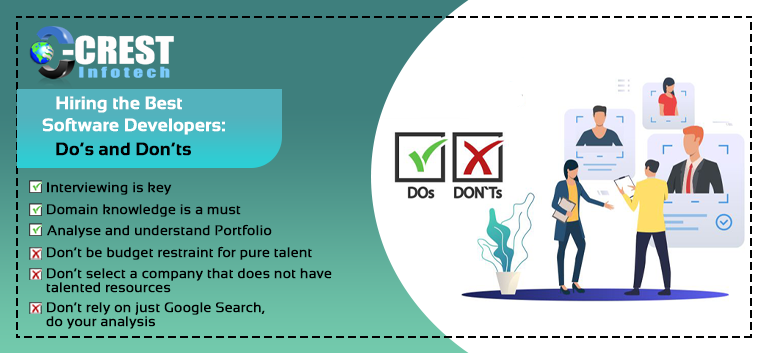 Dos and Don'ts in Hiring the Best Software Developers
We live in a time when apps are a necessary part of doing business. Earlier business models highlighted smartphones as differentiators. This is no longer the case. This is the age of mobility, and the average consumer searches for an app that will enable him or her to conduct part or all of their business with the company
.Similarly, internal applications are revolutionising business processes. This demonstrates the increasing value of apps in daily life – from aggregators to utility payments to booking apps, apps cover almost all.
This has, understandably, resulted in an overabundance of developers, leaving businesses perplexed as to the resource/agency to hire to create world-class apps. Here's a quick checklist of dos and don'ts to help you weed out the bad developers and choose the best ones.
Look for a team with deep domain knowledge.
You'll need to work with a developer who is well-versed in your industry. To put it another way, the developer should be familiar with your website. Even the best developer would be an epic flop show if they don't have a thorough understanding of the domain and the inherent obstacles or necessary specifications.
Look for someone who has a lot of experience with mobile apps.
You'll need a mobile app development team with experience. This should be the focal point of the team's activities. This will ensure that the work is completed by a team with the necessary numbers and experience in mobile app growth.
Never choose a business that specialises in other fields; this would be one of the greatest mistakes. Never be fooled by a company's impressive portfolio that highlights its growth prowess in other fields. It has little to no impact on you.
Look for a team that can create applications for a variety of platforms.
One of the most important questions you can ask yourself before hiring an app developer is which platforms you want to build your app for. This is a topic in which you must be certain.
If you choose a single device, such as iOS or Android, or an app that works on both, you must be very specific about your specifications.You must also select a company that can satisfy all of your criteria and has a thorough understanding of all channels.
Select a team that is the right size and has an outstanding technology stack.
Hire a team that is creative when it comes to open source platforms.
Since the majority of apps are built on open source technologies, there is a desperate need for new functions and features. The winner of the race is an app with a clean and simple gui, which beats out applications with a lot of bells and whistles that are of little or no value in terms of functionality and convenience.
The team's size is important. This will provide the team with more diverse ideas and inputs. If you pick a team that is too small, for example, you can end up with a limited set of skills, ideas, and visibility.
You'll get better seasoned hands to work on your project and help out, as well as access to a wider technology stack, if you hire the right size team.The team as a whole should be able to provide you with a more comprehensive technology stack. This will give you the best performance in all browsers and models.
It's also worth noting that picking a team that's too big might not be a good idea.
Choose a team with a good app portfolio.
The first thing to look for in an app portfolio is whether the team uses the same technology stack for all projects or uses different technologies depending on the needs. This will provide you with a deeper understanding of her professionalism and the team's capabilities.
The portfolio would also reveal if the team has previously worked on projects similar to yours or whether any of the arguments are simply exaggerated. An app portfolio with large number of projects in your field would show that you have more experience and visibility.
You'll get a good understanding of how the team applies and executes ideas when it comes to concepts.
Do not choose a team solely on the basis of cost considerations.
If price were the only criterion, you could learn app creation and do it yourself. Does this sound appealing to you? Isn't that the case? Price is a significant consideration, but it can never be the only one.
Make sure you do your homework correctly. Before you look at the pricing, look at the proficiency, skills, experience, track record, app collection, and clientele.
Allow the pricing element to come in second, but never first. A low-cost development effort can end up costing you more in the long run. In reality, if your product fails to perform well, you can be kicked out of the domain.
When it comes to the cost, read this if you don't know how much the optimal cost is, or if you're looking for a ballpark estimate of the costs of creating an app.
Don't just look at the Simple ROI; look at all three of them.
Few people are familiar with the three different ROIs: Simple ROI, Efficiency ROI, and Risk Aversion ROI. You could be cutting yourself out of a better business method if you just go by Simple ROI. When choosing app creation or the right developer, make sure to consider all three ROIs.
Your product should provide greater value and reliability to customers, it should never pose a risk to you or your clients, and it should be clearly cost efficient.These three metrics are critical in light of the effects of numerous data security regimes that have recently been enacted around the world.
Using a team that provides you with documents rather than one that does not.
Never hire a developer or team that does not have app documentation. This will be critical if you decide to improve the app by upgrades, patches, and the addition of new functionality and functionalities. It would be difficult to conduct exploratory testing or maintenance without app documentation.
It's also possible that you'll need to hire a new team in the future, or even an in-house team. As a result, never employ a mobile app developer who does not provide you with details that will enable you to tweak the app later.
Selecting an offshore developer with insufficient resources is not a good idea.
Because of globalisation, it is now much easier to find the best software developers all over the world. However, this does not imply that you can pick someone from any place. You'll have to think long and hard before making the decision.
Different cost considerations will apply to various geographical regions. The standard of developers and technologies can also differ depending on where you are.
When hiring developers from another country, make sure they have the necessary skills and technology to complete your project.
Choose anyone who does not have a no-maintenance policy.
Never hire a construction company that does not provide on-going maintenance. Even after the app has been released, you will need the assistance of your developers to correct bugs, release updates, and add new features.
As a result, it's important to consider the company's app maintenance and service policies. You can also take a look at the following things.
You can Hire Dedicated Developer for part time, full time and scheduled time of period for your dedicated development process. Contact Crest Infotech to know more about Laravel Development services in Details.